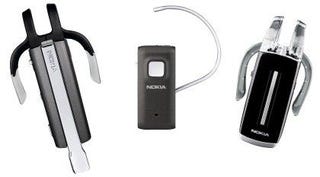 Though they haven't unveiled any phones at CES yet, Nokia has shown three Bluetooth Headsets in Vegas so far.
The BH-800 ($140) weighs in at just 9 grams, making it extremely small and kind of cute in coffee black and silver white. Comes with an optional, removable ear loop, power button, volume control and call answering buttons. Talk time is about 6 hours with up to 160 hours of stand by time. Includes Bluetooth specification 2.0 with Enhanced Data Rate (EDR).
The BH-900 ($100) is more stylish, designed with ergonomics in mind and noise reduction and echo cancellation. It weighs 19 grams (double the BH-800), supports Bluetooth and supports Push-to-Talk technology.
The BH-200 ($55) is the most affordable (and simple) of the group, weighing 14 grams with a talk time of up to 5 hours 30 minutes and up to 150 hours of stand by time.
Nokia Launches Three Great Bluetooth Headsets [PRnewswire]