Spoilers include new Transformers 2 concept art, and Ghostbusters 3 hints. Plus new Torchwood promos, Lost and Heroes casting news, and hints about FlashForward's first season finale. Also: V, Fringe, Warehouse 13, New Moon, True Blood and Impact. Spoilers, dudes!

Transformers: Revenge Of The Fallen:
New concept art shows Skids (one of the comedy robots) and the unnamed "purple motorcyle Autobot," one of three female motorcycles, I guess. The other two are Arcee and Chromia. (I thought the three motorcycles joined together to form Arcee, but apparently not.) [TFG2 and TFG2 via Transformers Movie Chronicles and Seibertron]

G/O Media may get a commission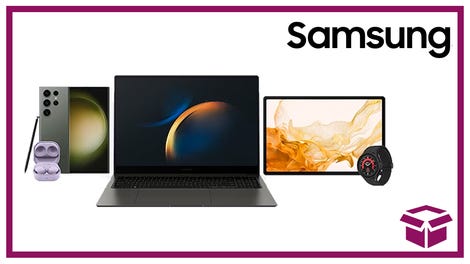 24 hour deals
Discover Samsung - Daily Deal
At one point, Sam's mother utters the line, "Hi, professor — I'd do anything for an A." The comedy stylings of the "twin Transformers" are also hilarious. The movie goes way downhill about halfway through and just turns into one long, nonsensical action sequence. [Culch]
And here's yet another Entertainment Tonight segment on the movie, which hopefully won't start autoplaying in an annoying fashion. [TLAMB]


Ghostbusters 3:
The new team of five newbie Ghostbusters, including two women, was in the outline that the movie's scriptwriters pitched, confirms Ivan Reitman. But there's no telling what the final script, due in about a month, will contain. [MTV]
New Moon:
Some new photos prove this movie really is made of cheese. [IGN]

Torchwood:
An Australian trailer and a BBC America featurette for the upcoming "Children Of Earth" miniseries. [Life, Doctor Who & Combom]



The first episode of "Children Of Earth" includes a big, huge revelation about Captain Jack which fits in with the story's theme of "sins from the past." (I'm guessing it's his daughter.) The first episode hits the ground running, and only gets more intense as it goes along — but star John Barrowman says that's only a five out of ten, compared to the intensity of the other four episodes. And there's still time for flirty banter. Barrowman doesn't rule out one more meeting between David Tennant's Doctor and Captain Jack. [Chicago Tribune]
Lost:
Shannon (Maggie Grace) may be making a return visit to the island next season, despite being dead. At least, Grace said she's going back to Hawaii soon. [E! Online]
FlashForward:
Wherever you think this show is going after the first episode, you'll be wrong. There are three "acts" to the first season, and the first "act" consists of the first seven episodes, in which the pieces are all moved out onto the board. And each of those first seven episodes contains at least one "holy shit, I didn't see that coming" moment, where you'll realize things are way different than you thought. Also, the first "flashforward" that everyone sees takes them to April 29, 2010 — which isn't when the season finale airs. So we'll actually catch up to the flashforwards before the season ending. Also, Seth MacFarlane's character, Agent Kirby, will be recurring. And the kangaroo you see on the street in the pilot will also be back. [Futon Critic]
Also, you'll see early on that characters lie about what they saw in their "flashes," or withhold some information. [Time]
Fringe:
The season opener will be called "New Day." [Fringe Television]
V:
After watching the pilot, you get the impression that someone we thought was a series regular is actually only guest-starring in the first episode. [EW]
Heroes:
Rick Worthy (aka Simon, the most underused Cylon on Battlestar Galactica) is in talks to join this show's cast as Matt Parkman's new partner, an experienced and capable L.A. cop whom Matt can lean on for advice. [Hollywood Reporter]
The show is going to explore the characters living "everyday, normal lives," and yet coping with the fact that they've been through this crazy series of events, James Kyson Lee tells TV Guide. And Ando is going to get better at controlling the laser-beam blasts from his hands, and he and Hiro are going to start a new business together, involving glitter and spandex. Yes, really. (Isn't Hiro still a mega-zillionaire? I miss him being a lowly office worker.) [TV Guide]


Warehouse 13:
This show's first batch of episodes will have the titles "Pilot," "Resonance," "Magnetism," "Claudia," "Elements," "Burnout," "Implosion," "Duped," "Regrets" and "Breakdown." [SpoilerTV]
True Blood:
Here are the titles and synopses for this show's July episodes:

July 12: "Shake and Fingerpop"
With Jessica in tow, Bill and Sookie head to Dallas to carry out Eric's vampire-reconnaissance mission — but a surprise awaits them at the airport. At the Light of Day Institute, Jason falls victim to a practical joke, but has the last laugh when the Newlins anoint him for a higher calling. Maryann throws Tara a birthday party at Sookie's, attracting much of Bon Temps to its Bacchanalian revelry. Sam postpones his departure from town to attend the bash, connecting with Daphne in the process. Having barely escaped Fangtasia, Lafayette (finds himself reluctantly pulled back into Eric's orbit.

July 19: "Never Let Me Go"
In Dallas, Sookie connects with one of her own, then joins Bill and Eric for a strategic summit at the lair of the missing vampire, Godric, attended by his lieutenants, Stan and Isabel. Meanwhile, Jason shows his mettle at a Light of Day boot camp, and is rewarded for his hard work with a gift from Sarah. Rebuffed by Tara in her relocation efforts, Maryann decides to cast her spell on the staff of Merlotte's, softening Tara up towards her new "family." Eric shares a little-known secret about his past with Bill, and Sookie makes a decision that might solve the Godric mystery — or get her killed.

July 26: "Hard-Hearted Hannah"
Accompanied by Isabel's human boyfriend Hugo, Sookie embarks on a dangerous mission to locate Godric. Meanwhile, Bill is shocked when a vampire from his distant, more violent past resurfaces in Dallas. In Bon Temps, Daphne presses Sam to get comfortable in his own skin(s); Hoyt continues his unlikely courtship of Jessica; Andy interrogates Lafayette about his disappearance; and Tara and Eggs take a detour while on a road trip. At the Light of Day camp, Jason faces difficult emotional and physical choices.
Impact:
Salon.com has the funniest review ever of this Syfy Channel miniseries which is unaccountably appearing on ABC instead. A giant meteor goes flying towards Earth and smacks into the Moon, causing effects that are felt for many long, boring days afterwards. People resolve their differences and/or fall in love in the face of impending armageddon. Every few minutes someone says something like "But that makes no sense!" And then they have another boring conversation about "brown dwarfs or mass or gravity."
Actual dialogue from Impact:

"We have no other choice, sir. You can't hide from gravity!"

"Look, I can't even answer the questions on 'Are You Smarter Than a Fifth Grader,' but even I know the moon is not capable of manipulating gravity at this level."

"We are a part of something here that's going to be written about in the same context as Newton and Einstein. I know you don't want to miss out on that!"

"Science has very much come under question these last few days. But, it's all I have."
There's a scene where an old guy is driving in his car, and it suddenly floats into the air in a very Mary Poppins way. The whole Salon review is well worth reading, it's a masterpiece. Unlike Impact itself, by the sound of things.[Salon.com]
Apparently, that brown dwarf? It actually gets embedded in the Moon. Oops. That's not good. Also, the President is a straight shooter who doesn't understand all this sciencey talk, and there's a gruff stupid general, who wants to keep secrets from the Chinese and the Russians even though the world is ending in a few weeks. And we see how the scientists' families are affected by the fact that the scientists have to go off and try to figure out how to save the world. [Cinemablend]
Additional reporting by Alexis Brown.