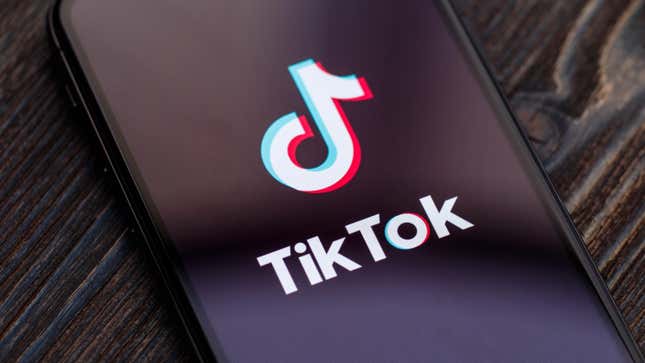 We've all been there: You're in a conversation with friends, and you desperately try to find a TikTok that you had scrolled past that could serve as a funny contribution to the current topic of conversation. You hastily search and scroll through the app and finally find it, but it's too late—your companions have moved on to another, unrelated topic.

Will Banning TikTok Solve Privacy Issues? | Future Tech
Worry not, you can actually view your watch history on TikTok quite easily. TikTok stores every video you've watched for the past 180 days, even if you've scrolled past it in a huff.
How can I view my TikTok watch history?
Viewing your TikTok watch history is a painfully simple, yet woefully elusive, feature on the app. To access your TikTok history, begin by tapping the magnifying glass icon in the upper right corner of the screen to open the search menu. Then, simply type a period in the search bar and click "Search." That's it.
You should be greeted with a bunch of seemingly random and nonsensical videos, but you should also see a button at the top of the search results that reads "View your watch history." Tap that and the rest is, literally, history. Feel free to relive the memories of your endless binges of videos on the app.
Can I delete my TikTok watch history?
If you're in the mood for a fresh start and want to delete your TikTok watch history, you'll first have to navigate to your profile using the human-shaped button at the bottom right of the screen. Next, tap the three line menu (also known as a "hamburger menu") at the top right and click "Settings and privacy" at the bottom.
There, press the "Comment and watch history" option and you'll be greeted by your watch history but also a list of every comment you've ever left using your TikTok account. To delete your watch history, press "Select" in the top right to choose whatever videos you'd like to delete from the list—if you'd like to delete all of them, press "Select all watch history" in the bottom left. Then press the big, red delete button on the bottom right and kiss your watch history goodbye.
There is currently no option to mass delete your comment history, so you'll have to remove them one-by-one.
About TikTok watch history
If you'd like to learn more about what TikTok does with your watch history, tap "Learn more about watch history" at the top of the list of videos you've scrolled through. Here, TikTok claims that it will only store videos you've seen in the last 180 days, and LIVE videos and stories you've visited aren't cataloged here. Any videos you watched outside of the account you're using to access the archive also won't be saved in your watch history.
While the app says that deleting your watch history is permanent, TikTok will also store your watch history "for some time" to "optimize your experience," according to the disclosures within the app. This is apparently to prevent duplicate videos from appearing in your feed.