New York has fantastic public transit. It's by far the best in the country. Sorry not sorry. But there is one way in which it falls short: There are meagre ways to get across town, especially at critical points like 42nd street, where you must either choose NYC's shortest and nastiest subway line or the snarling mess of street traffic.
Of course, the MTA is working on it. There are multiple massive infrastructure projects at play deep below Manhattan right now, and within the next few decades, they'll transform the system. But there are divergent opinions about whether the city should be pouring all its capital into the underground system. For for the last 16 years, a nonprofit called Vision42 has worked to study and garner support for a light rail that would run the length of 42nd Street. It's a plan that, they say, would be cheaper, less disruptive, and far faster to build.
Except, of course, for the fact that it would completely get rid of car traffic for good, pissing off many, many people.
What's more, they argue that a light rail would bring huge benefits to the city—by turning one of the most car-clogged arteries into a light rail corridor lined with pedestrian and green space. "Very little has been done over the past half century to improve our city's environment for either walking or surface transit," the group explains. The light rail would cut down river-to-river travel from a 43 minute bus ride to 21 minutes, and the project would only take four years to install.
G/O Media may get a commission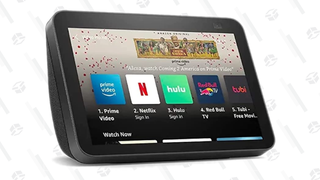 Sounds great, right? Even though it would destroy the flow of traffic around Midtown, the group says it would fix things in the long run, cutting down on wasteful traffic and boosting the neighborhood's livability. Of course, since it's instigated by a group outside the realm of the MTA, would take incredible public (and mayoral) support. And Vision42 is a nonprofit, which means that hiring planners and engineers to conceptualize the plan isn't as easy as it would be for the city. Hence the group's international design competition, which just wrapped up.
Four winners created proposals for the corridor that will now be further studied by Vision42. You can vote for the final winner, which will receive funding for further research and development, here. [Vision42; h/t Curbed]
---
The Light Rail Grand Passage—A Linear Garden
A proposal from New York- and France-based architects and engineers would connect the green boulevard to parks and public spaces scattered long the route, including Bryant Park and a new public plaza near the UN.
Designed by Alfred Peter, Charles Bové, and Karen Listowsky from Strasbourg and Marseille and New York.
---
Vision 42: From Infrastructure to Urban Renewal
Another idea from a cadre of French architects—after all, France is home to dozens of new light rail projects—is the simplest, detailing a river-to-river rail line that's flush with the pedestrian zones that run parallel to it, along with a river-to-river bike lane.
Designed by Thibault Barbier, Aurélien Delchet, Mathieu Delorme, Yvan Okotnikoff, and Adèle Sorge of ateliergeorges—a French pluridisciplinary studio practicing urban, landscape and architecture design—along with Hugo Bruley and Valérie Tasseel, in Paris and Nantes.
---
A Greenway Grows on 42nd
An Australian designed named Paul Boyle played up the potential environmental benefits of the corridor with a plan that focuses on cultivating local foliage along the route. Boyle would create "pods" for planting greenery above the rail line, protecting it from being trampled or peed on, and coat other surfaces with plant life to cut down on air pollution and keep temperatures down.
Designed by Paul Boyle at University of Western Australia in Perth.
---
42nd Street Reactive Ground
This plan from the architect Tiago Torres Campos focuses on creating a broad swatch of public space next to the light rail itself—filled with parklets, community spaces, and recreation areas. Campos also has a inscrutable bit of theory about his plan reconnecting the city to its geological foundation, which I'll let him explain:
The proposal locates 42nd Street on the much wider space-time depth of Manhattan by positing three conceptual layers: the 200-year-old skyline, the 200,000-year-old ground line, and the 200-million-year-old rock line. By breaking up the grid's sealing cap, the ground line is unleashed as a strategy and vision for Manhattan's skyline and rock line reconnected.

Designed by Tiago Torres Campos at CNTXT Studio in Edinburg, Scotland.
---