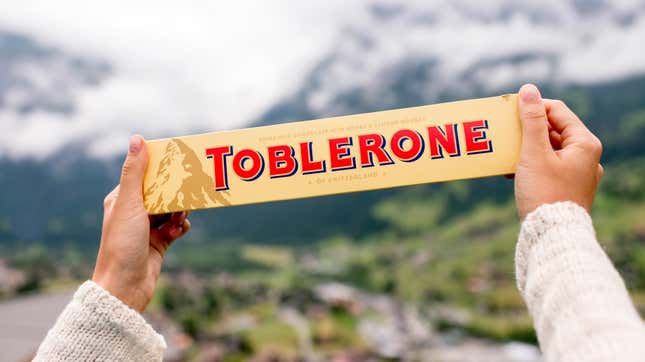 Mondelez International, the company that makes Toblerone chocolate, is removing an image of the Matterhorn mountain from packaging of the candy because the product no longer meets the country's standard of "Swissness" after moving some of its chocolate production to Slovakia.
According to Bloomberg, last year Mondelez announced plans to move part of its Toblerone production to Bratislava, the capital of Slovakia, in order to reduce costs. In addition to the move, the chocolate's packaging will change to "a modern and aerodynamic mountain logo that aligns with its geometric and triangular aesthetic," a Mondelez spokesperson told Swiss newspaper Aargauer Zeitung.
Furthermore, instead of including the phrase "of Switzerland" on its packaging, Toblerone chocolate will now read: "established in Switzerland." Mondelez is reportedly carrying out the change because it doesn't want to violate Switzerland's "Swissness law," enacted in 2017, which bans products from using national symbols and Swiss crosses on packaging that doesn't meet certain requirements.
The Swiss Federal Institute of Intellectual Property explained that the Swissness law strengthened protections and prevented the country's symbols from being used by "free riders."
"It helps prevent and curb their misuse, so that the value of the 'Swiss' brand can be preserved in the long term," the federal institute said.
The Toblerone factory in Bern, the Swiss capital, will remain open, although it's not clear how it will be affected by Mondelez's production changes.
Gizmodo reached out to Mondelez for comment on these changes but did not hear back by the time of publication.
This story was originally published at Gizmodo en Español. For more news coverage, check out Gizmodo's tech, science, or io9 front pages. And you can always see the most recent Gizmodo news stories at gizmodo.com/latest.