Toshiba's Portégé line has always been the top of the company's shelf—with prices to match. The Portégé R705 upends that lineage: It's capable, sure, but it's also affordable. So does it live up to its fancy double-accent-marks?
Spoiler alert: yes. It's not that the Portégé R705 is the fastest laptop out there. Or the prettiest. But it's in a class by itself among ultraportable notebooks, packing more performance into a lighter frame than anyone else has to date, at a wholly competitive price. Is there room for improvement? Of course. But there's much more here to like than not.
Price and Configuration
The system we tested—the only configuration available on this Best Buy exclusive—comes loaded with a 2.26GHz Core i3-350M processor and Intel integrated graphics, 4GB DDR3 RAM, a 500GB (5400rpm) hard drive, and an optical drive for $800. If you want color options, you've come to the wrong place. But hey, isn't nearly black the new black anyway?
Design
The first thing you notice about the new Portégé is the weight. Or rather, the lack thereof. It's incongruous, really; this full performance, 13.3-inch notebook weighs just a touch more than a netbook. In fact, at 3.2lbs it weighs about 25-percent less than my 13-inch MacBook Pro. Switching between the two feels like moving from a discus to a Frisbee.
G/O Media may get a commission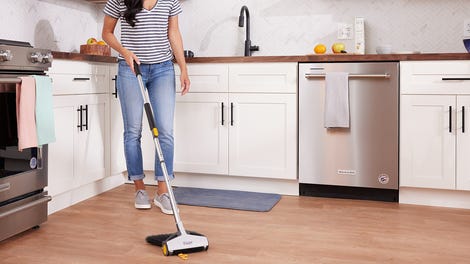 BOGO 50% Off
Flippr - BOGO 50% Off
Your first assumption is that the R705 must be somehow diminished or cheap: A wimpy ULV processor, say. Flimsy materials. Nope. As the gaudy sticker on the palm rest boasts, there's a full Core i3 Intel inside, and the body is constructed of sturdy magnesium. There's even, so help me, a DVD drive. What the what?
The weight-saving voodoo comes from Toshiba's Airflow Cooling Technology, a new heat-fighting scheme co-developed with Intel that uses directed streams of air to cool components. It's what lets Portégé R705 walk like a ULV notebook but talk like the varsity rig it is.
The only sacrifices that keep the R705 from letterman status are aesthetic. The Portégé isn't ugly, it's just bland. It's blocky and nondescript. The cover is midnight blue but looks black much of the time; the corners are softened but still angular. Chrome screen hinges are the closest thing here to flair, unless you count the four stickers crammed beneath the keyboard. They look like someone slapped tuner stickers on a bone-stock Civic.
Thankfully, you'll spend most of the time covering those up with your sweaty wrists. The display's where you'll be spending most of your time, and the Portégé's 13.3-inch 1366x768 screen is crisp, clear, and bright—albeit somewhat glossy. It's really very nice, especially when the brightness is cranked up, but it would be nice not to see quite so much of my reflection. The speakers, too, are decent to a point; over a certain volume the tinniness overwhelms the sound, but the quality's just fine for your average Hulu binge.
But that's the fun stuff—what about when you need to bang out emails to your new Nigerian mineral heir friend? The Portégé sports an island-style keyboard, whereon each chiclet island feels an ocean away from its neighbor. The small spaces afforded each letter don't amount to a big deal, although the large-fingered among us might have a hard time typing accvbur1ytly. But where the keyboard may be annoying for some, the trackpad is genuinely crappy. It claims to speak multitouch but really isn't anywhere close to fluent. Sure, it pinch-to-zooms, but two-fingered scrolling only worked in fits and starts. Or stops, rather. It's unreliable to the point of abandonment.
Reliable but less essential is the R705's WiDi capability, which lets you wirelessly connect your desktop to your TV. It works perfectly well here, but keep in mind that WiDi doesn't play DVDs under DRM or support 1080p, and you'll need to purchase a $100 add-on from Netgear to use it. It's good, not great, and it's not something that should factor heavily into your overall decision.
The same thing could be said about the R705's overall look: it's nice enough, but the bread and butter's under the hood.
Performance
This is where the Portégé really shines. It's not that it's the most powerful laptop out there—that's a fight we'll leave to the gamers—but it's got incredible pep for its size and weight. While you wouldn't necessarily trust the Core i3–350M processor (and, more specifically, Intel's gimped integrated graphics) to do any heavy gaming, the Portégé can stream HD videos without much difficulty and is more than capable of handling our email/internet/productivity needs.
Benchmarks? Sure! The Portégé stacks up nicely against its contemporaries and mops the floor with Core2Duo and ULV machines. Here's how it performed in GeekBench against the Acer Aspire TimelineX, its primary competitor—though a pound heavier—that also packs Core i3:

It's not a huge gap, but it's definitive. Moreover, the R705's overall mark of 4145 more than double's the ThinkPad Edge's previous generation SU7300 ULV guts.
The Portégé also put up a 4959 in PCMark Vantage, slightly ahead of the TimelineX and miles beyond any Core2Duo ULV performance. Though the integrated graphics could stymie some of your high definition video efforts, and while you wouldn't want this to be your go-to gaming rig, it's more than capable of keeping up with everyday needs.
So the R705 is a great daily driver. Unfortunately, it runs out of gas in a lot less than a day.
Battery Life
While not as impressive as the listed 8 hours, I was actually able to squeeze pretty decent stamina from the R705. I tested higher performance settings, medium screen brightness, bluetooth off (because there is none), and a page automatically reloading every 30 seconds on Firefox to simulate active web browsing.
Total Run Time: 4 hours, 58 minutes
And that can obviously be further improved by settling for lower performance/higher battery life settings.
All In the Balance
The R705 isn't the flashiest notebook out there, and it's not the most powerful, and it's not the lightest. But it's got incredible pop for its weight, and there's something refreshing about the minimal form.
Do I have reservations? Sure. The desktop is refreshingly free of bloatware, but the system gets bogged down with Best Buy's software installer. The cooling system may keep the chassis light, but the rig also gets pretty hot. There's no bluetooth. And the trackpad and integrated graphics really are less than ideal.
But those are nits that I'm picking, each no heavier, relatively, than the R705 itself. And together, they still don't prevent this new Portégé from being a once in a blue moon every day laptop.
Incredible performance-to-weight ratio


Affordable considering the brand and the specs


Decent battery life


Utilitarian design


Trackpad two-finger scrolling just doesn't work


No bluetooth, if you're into that