The Toshiba Satellite U845W is a weird laptop. It's thick where others are thin, and wide where others are, uhh, not wide. But more than that, it's a grand experiment. Do we actually want this thing? Can this be good? Maybe. But it's going to need a little work, first.
What Is It?
A super-widescreen ultrabook with a 21:9 display.
Who's It For?
People who watch so many movies in their native 21:9 aspect ratio that they can't stand to see a letterboxed format. Or people who just want something different.
Design
The U845W is short and thick for an ultrabook. An odd rubberized grip along the bottom front of the laptop is actually pretty nice to help carry it around.
G/O Media may get a commission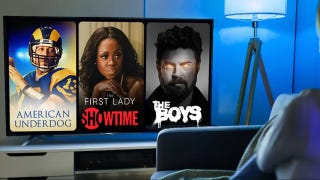 UNDER $1
99¢ Prime Video Channels
Using It
The U845W can fit two nearly-full-sized windows side-by-side on the screen. Toshiba's OEM software can automatically cordon off sections of your screen for specific windows.
The Best Part
This is a good idea. The extra horizontal real estate is useful, and it never feels cramped. If you multitask with a lot of windows on the screen, this is one of the better ultrabooks for you.
Tragic Flaw
The screen's display quality. If you're going to gear your whole product toward this big 21:9 aspect ratio, why not use the most insanely bright, vibrant, realistic screen available? The 1792x768 panel is fine, but leaves you wanting a really amazing screen like the Zenbook's.
This Is Weird...
That window-cordoning OEM software is unusually useful. It's like an advanced version of Aero Snap, or a rudimentary version of Windows 8's Metro app sidebar.
Test Notes
The touchpad! A huge like. The Lenovo X1 Carbon has wonderful touchpad, but the Satellite U845W is right there with it as one of the best, most responsive touch pads we've seen. Hopefully that's a trend.
The keyboard isn't great, but in a confusing way. It doesn't quite have enough travel distance on its keys, and the keys are a little too small. It's fine for the most part, but on such a wide, thick machine, there should be room for a full-sized keyboard.
While onboard speakers generally mean absolutely nothing for a laptop, the U845's Harmon Kardon speakers pass a critical real life test: "Are these loud enough to annoy my roommate?"
Vertical space was never really an issue. The U845W is a bit taller than an 11-inch ultrabook or MacBook Air, and the 768-pixel vertical resolution is enough to get work done or scroll through an article, though it's a little cramped with spreadsheets.
It's nice to watch letterbox-free 21x9 video, but old 4x3 video in fullscreen just looks bad.
Should You Buy It?
Maybe, but probably not. There's more and more 21x9 content out there. Apple, Amazon, and other sellers are pushing the format. So there's room for an honest, premium machine that takes advantage of it, and then uses its mutant width in creative ways, either with traditional Windows or in Metro. But the U845W isn't that machine. Not yet.
---
• Processor: Intel Core i7 Ivy Bridge
• Memory: 6 GB
• Storage: 256GB SSD
• Extreme Battery Test Life: 3 hours 38 minutes
• Display: 1792x768 14-inch
• Graphics: Intel HD 4000 integrated
• Ports: 3 USB 3.0, HDMI, SD Card, Ethernet
• Dimensions: 13.4 inches x 9.1 inches x 0.81 inches
• Weight: 4 pounds
• Price: $1,400
• Gizrank: 3.0