Last week a train twinkling with LED lights chugged into Oakland's 16th Street Station, its final destination on a 3,000 mile, ten-city whistle stop art happening orchestrated by Doug Aitken called Station to Station.
You can peruse the project's website for documentation of some of the cross-country installations and performances, which range from a kinetic drawing machine by Olafur Eliasson, to Patti Smith playing in St. Paul, to Thurston Moore reading poetry in Pittsburgh, to Lawrence Weiner raising a flag in Winslow, Arizona, to Beck, Urs Fischer, Kenneth Anger and many more artists transforming L.A.'s Union Station into a massive multimedia concert hall.
But the train itself, made from nine vintage cars and many contributions from artists, is also worth a look.
G/O Media may get a commission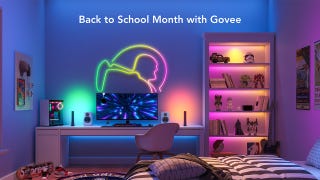 Back to School
Back to School Month with Govee Sale
Station to Station worked with an company called Friends of 261, which owns most of the train cars used for the project. Friends of 261 founder Steve Sandberg rode along to give passengers a history lesson about the trains.
The "Cedar Rapids," for example, was supposedly Frank Sinatra's favorite car; he'd buy every seat on board when traveling between gigs. Here, the seats have been given a once-over with textiles by artist Jorge Pardo.
The project's artists and staff got to stay in sleeping compartments on the train—like this one in the "Silver Quail" car, built in 1952.
Cars like the "Minnesota River," meanwhile, offer a lush comfort that you just don't see on today's Amtrak trains. Bring back the velvet curtains, please!
The cars also had to serve utilitarian duties for the photographers, writers and filmmakers documenting the project, so the "St. Croix Valley," for example, was converted into a mobile production studio.
With instruments and recording equipment, the "Wisconsin Valley" also became a full-fledged recording studio, used by artists to record music and sound along the way.
The "Mojave" car was sponsored by Levi's and featured Navajo-themed decor, happy hours at 5:01 p.m. (get it?), and, of course, a vintage typewriter that tweets.
Other cars, like the 99-year-old "Lambert's Point," were left blissfully untouched. This car has hosted plenty of celebrities over the years and Bill and Hillary Clinton used it for campaign stops back in 1996.
The whole thing added up to one hell of a roaming hipster rave, but I wonder what, if any, the impact had on train travel—or perhaps train awareness—in the U.S. I did talk to some people who didn't know it was possible to travel from L.A. to Oakland via train, for example. Perhaps it won over a few advocates for high-speed rail projects across the country, or drew attention to neglected train stations in certain cities. It definitely glamorized train travel, which is not always as breezy and beautiful as Station to Station made it look.
Amtrak should take note of how alluring this model might be to potential passengers—original trains with a light contemporary design touch, maybe even an on-board artist or musician in-residence, like an Ace Hotel on wheels.
If the Station to Station train started running regular routes and let ordinary folks buy tickets, I'd definitely get on board.
[All photos by Ye Rin Mok except Minnesota River and Wisconsin Valley by Mara McKevitt; via Station to Station]