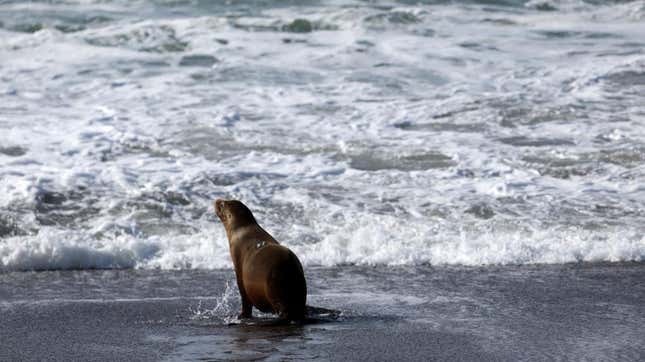 Sea lions and dolphins that swim off California's central coast are dying. Toxic algae blooms off the state's coast are believed to be stranding and even killing the marine animals at alarming rates, according to the National Oceanic and Atmospheric Administration.

Meet Microsoft's New Surface Laptops
The Channel Islands Marine & Wildlife Institute has received over 1,000 reports of sick and dead marine mammals from June 8 through June 14, according to a recent report from the NOAA's Fisheries department. "We are managing more than 200 reports of marine mammals in distress each day," Ruth Dover, co-founder and Managing Director of the Wildlife Institute said in a statement. "We are doing the best we can to keep up with the intense pace."
An algae called Pseudo-nitzschia is blooming off the coast of California. That particular algae creates a neurotoxin called domoic acid, and high concentrations of this have been detected off the coast from Orange County to San Luis Obispo County, according to Observations from the Southern California Coastal Ocean Observing System. The counties of Ventura and Santa Barbara are seeing especially high concentrations of the neurotoxin.
When exposed to domoic acid, animals become lethargic and disoriented. They experience nausea, seizures, and many then die after exposure. They become sick because the acid enters their food chain. A smaller fish becomes infected, and then a sea lion or dolphin eats that fish and becomes sick. It won't affect people unless the domoic acid is found in food consumed by humans. If anyone on a beach in California sees a stranded animal, wildlife experts requested that people steer clear of them and to report the sighting to wildlife departments.
If some of the affected sea lions are found in time, they can receive treatment and eventually recover from being exposed to the toxin, the Los Angeles Times reported. But some of the affected animals may have to live with brain damage and memory loss afterwards.
Though algae blooms are naturally occurring, climate change does contribute to favorable conditions for harmful blooms. Warmer ocean temperatures have fueled larger algae blooms, according to the EPA. And other parts of the U.S. have also seen instances of dead marine life washing up after a bloom. This past March, Florida's west coast felt the effects of a red tide, which caused several tons of dead fish to wash up on Fort Myers Beach.
Want more climate and environment stories? Check out Earther's guides to decarbonizing your home, divesting from fossil fuels, packing a disaster go bag, and overcoming climate dread. And don't miss our coverage of the latest IPCC climate report, the future of carbon dioxide removal, and the un-greenwashed facts on bioplastics and plastic recycling.