If you keep confusing Michael Flynn, Donald Trump's national security adviser, with a two-bit villain in a Tom Clancy novel, we don't blame you. Jack Ryan would've definitely been suspicious of Flynn, who was on the board of a dubious "brain fingerprinting" company, working alongside a guy once convicted of trying to sell stolen biotech material to the KGB to interrogate people using brain scans.
Again, no this is not a 1990s spy novel. It is something one of our future president's top aides really did in real life.
Flynn, according to Bloomberg, began collaborating with the Boston-based company Brainwave Science last spring. Brainwave is in the business of selling an incredibly dubious technology called "brain fingerprinting," which tries to assess the honesty of an interrogation subject using a brain scan. The technology is designed to be a replacement to the polygraph test. The Brainwave website says:
Brain Fingerprinting collects an advanced scientific brain response called the P300 MERMER, to analyze patterns of semantic memory recognition. Patented algorithm processes intelligently detect specific information stored in the brain.
Basically, brain fingerprinting works by asking an interrogation subject a series of questions, and then using electrodes to record the brain's EEG signals that an algorithm analyzes for patterns that suggest whether a person is being honest. For law enforcement and government agencies, it offers the tantalizing prospect of being able to simply peer into someone's brain and gather details about a crime.
Here is a helpful image to explain how it works:
G/O Media may get a commission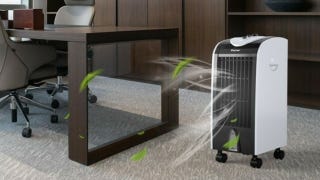 Save $10
Evaporative Portable Air Conditioner Cooler with Filter Knob
The company claims to have an accuracy rate of "close to 100 percent." But whether this technology actually works has been widely disputed. The technology has yet to be subjected to public review and so far, it has rarely been admitted into US court as evidence. A report released in 2001 found that the claims of effectiveness could not be validated. In 2012, a group of researchers sought to debunk the technique writing in Cognitive Neurodynamics that the research "is misleading and misrepresents the scientific status of brain fingerprinting technology."

Still, Brainwave Science has sold its technology to a number of countries and has attracted many former members of government to its board. Flynn was brought onto the company's board of advisers in February in order to help sell the product to US federal agencies, which have yet to bite. According to Brainwave CEO Krishna Ika, Flynn found the technology "very convincing."
As for the whole Russian spy thing: one of Flynn's board directors was Subu Kota, a man who pleaded guilty in 1996 to selling the stolen biotech material to an FBI agent posing as a Russian spy. During federal court proceedings, prosecutors argued that between 1985 and 1990 Kota was part of a spy ring selling US missile defense technology to Russian spies. Kota has denied being part of a spy ring, but he did cop to regularly meeting with a KGB agent and receiving hundreds of thousands of dollars for information about technology related to US missile defense systems.
A spokesman for Trump's transition team said that Flynn had somehow never spoken with Kota despite serving on the company board with him, and that Flynn has ended ties with Brainwave. According to Bloomberg, however, the relationship did continue well after Flynn began receiving classified intelligence briefings as part of the Trump campaign.
The next four years may not be great for America, but maybe the spy novel will make a comeback.