Less than two weeks after Ajit Pai assumed leadership of the FCC, the agency quietly announced several troubling actions Friday afternoon, including major blows to net neutrality and a program designed to give poor people internet access.

This week, the agency notified AT&T, Verizon, T-Mobile and Comcast that their inquiry into "free data" plans was being dropped. In a statement, Chairman Pai said the FCC "will not focus on denying Americans free data," saying such plans "have proven to be popular among consumers, particularly low-income Americans, and have enhanced competition in the wireless marketplace."

Under Chairman Wheeler, appointed by President Obama, the FCC opened an investigation into whether free data plans provided by these large wireless carriers were in violation of net neutrality, as they allowed consumers to access their carrier's content more easily than others. AT&T also offered "sponsored data" packages, allowing other companies to provide content for users to stream for free if they paid AT&T a fee.
Given Pai's openly hostile attitude towards net neutrality, this move isn't that surprising; in December, he promised to "fire up the weed whacker" to regulations. And while this doesn't affect internet usage through other carriers or through wired internet, it does provide an indication of how Pai's FCC intends to deal with regulations going forward.
G/O Media may get a commission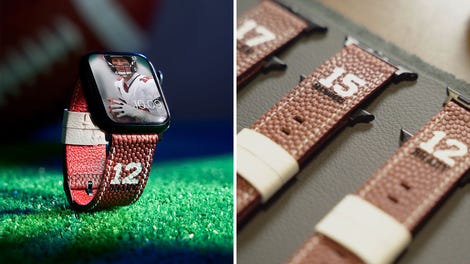 Official NFL PRODUCTS
Official NFL Apple Watch Bands
That wasn't it, though. Another order issued today took on a program designed to help poor people access broadband, which is odd given Pai's rhetorical commitment to ending the "digital divide" between those who can use "cutting-edge communications services" and those who can't. In an order on reconsideration, the FCC's Wireline Competition Bureau said the move was to "promote program integrity" by giving them time to "consider measures that might be necessary to prevent further waste, fraud, and abuse in the Lifeline program."
Lifeline is a program that was created in 1985 to bring discounted phone service to low-income consumers. It was meant to ensure that all Americans had access to opportunities that phone service brought, including the ability to connect to jobs, family, and emergency services. In 2016, the commission adopted a comprehensive reform called the 2016 Lifeline Modernization Order that included broadband internet as a support service.
The modernized order passed last year provided homes with a $9.25 credit per month that could be used to purchase internet services. According to the FCC's own reporting, as many as 13 million Americans qualified for the program. Until last year, recipients were only able to use their allowance toward landline and mobile services. Former FCC Chairman Thomas Wheeler extended the benefits to include Internet access in March 2016.
But that wasn't it either! A third order issued today ended an investigation into a number of stations for failing to properly disclose political ad information. Stations are required to disclose certain information about political TV ads, and often these disclosures are the only source of information about how much dark money groups are spending.
The advocacy group Free Press noted in a statement the timing of Pai's action, saying it undercut his much-ballyhooed statements on transparency earlier this week:
"With these strong-arm tactics, Chairman Pai is showing his true stripes. The public wants an FCC that helps people. Instead, it got one that does favors for the powerful corporations its chairman used to work for.

"This Friday-afternoon release is a phenomenally hypocritical maneuver in light of comments Chairman Pai made earlier this week pledging increased transparency at the agency. It took him just two days to break that promise."
Mignon Clyburn, the FCC's lone remaining Democratic comissioner, also took umbrage with the Friday news dump in a fiery statement:
"Today is apparently 'take out the trash day.' In an eponymous episode of the West Wing, White House Chief of Staff Josh Lyman stated: 'Any stories we have to give the press that we're not wild about, we give all in a lump on Friday . . . Because no one reads the paper on Saturday.' Today multiple Bureaus retract—without a shred of explanation—several items released under the previous administration that focus on competition, consumer protection, cybersecurity and other issues core to the FCC's mission.

Clyburn went on to allege that her office requested more time to review the decisions, but was rebuffed and given only two days.
Pai, meanwhile, was unapologetic, describing the regulations he took on today as "midnight regulations:"
"In the waning days of the last Administration, the Federal Communications Commission's Bureaus and Offices released a series of controversial orders and reports. In some cases, Commissioners were given no advance notice whatsoever of these midnight regulations. In other cases, they were issued over the objection of two of the four Commissioners. And in all cases, their release ran contrary to the wishes expressed by the leadership of our congressional oversight committees. These last-minute actions, which did not enjoy the support of the majority of Commissioners at the time they were taken, should not bind us going forward. Accordingly, they are being revoked."
If this is the pace at which the Trump-era FCC will operate, net neutrality proponents have to step up their game.