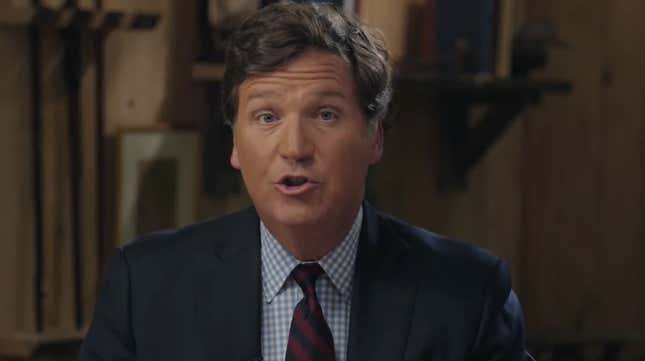 Tucker Carlson is back with a brand new web show and I'm sorry to report that it's already gone viral.
The ex-Fox News host, who was ousted from his longtime home at the conservative news network in April, has launched Tucker on Twitter, which—as you might have guessed—is hosted on Twitter. Once the great orator behind Tucker Carlson Tonight, one of the most popular programs on cable television, Carlson was abruptly ejected from his position earlier this year over network executives' concerns, allegedly regarding his connection to Fox's Dominion Voting System lawsuit, as well as another suit accusing Carlson and Fox of sexism and harassment.
Now, Fox has accused Carlson of breaking the non-compete clause of his contract, which should bar him from launching any competitor programs until 2025, and may be considering legal action against him over the new show.
But, for the moment, Fox clearly can't shut Tucker up. In the first episode of Tucker on Twitter, which premiered to a massive viewership on Tuesday, Carlson showed he has absolutely no plans to go quietly into that good night. No, he apparently prefers to go ranting and raving, taking swipes at familiar political and cultural enemies.
If you can't stomach actually watching Tucker's new show, you're in luck: we've provided a quick rundown on what happened. (Don't worry—we don't plan to do this every week.)