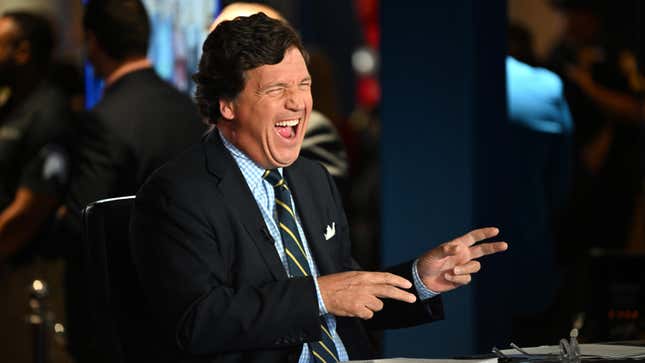 Less than a week after Fox News agreed to a $787.5 million settlement with Dominion Voting Systems, the right-wing news network and conservative mouthpiece announced it is parting ways with one of the main jewels in its crown, Tucker Carlson.
Tyler Posey Almost Played a Lost Boys Vampire
On Monday, Fox News publicly confirmed it's bucking Tuck, the ultra-right wing figurehead and leading host of Tucker Carlson Tonight and multiple related web-based shows. The cable news program has routinely been in the top three of all cable news shows for the past several years, even as advertisers have abandoned him and the Fox network entirely over the host's rise to prominence in far-right circles. Fox News anchor Harris Faulkner first announced Carlson's exit on her Monday morning program.
In a public statement, Fox said "We thank Carlson for his service to the network as a host and prior to that as a contributor." There won't be any more Carlson Monday night, as the statement mentioned his last program aired Friday, April 21. A rotating cast of other Fox personalities will take up his usual 8 p.m. ET timeslot.
It remains unclear who broke with whom, though as Media Matters for America President Angelo Carusone pointed out, Carlson was supposed to interview Vivek Ramaswamy, a former National Review writer, on Monday night. Fox had promoted that interview earlier in the morning. Semafor reported Monday based on two anonymous sources that Justin Wells, Carlson's executive producer, was also out at Fox.
The news comes on the same day that CNN and star anchor Don Lemon also parted ways. Lemon said he was terminated, but CNN said in a statement, "Don Lemon's statement about this morning's events is inaccurate. He was offered an opportunity to meet with management but instead released a statement on Twitter." Lemon went on a sexist rant on air in February that elicited scrutiny of his past behavior.
In texts and emails that came out amid Dominion Voting System's lawsuit against Fox, Carlson was privately fuming about the way the "Big Lie" promoters—AKA those "fuckers"— were "destroying our credibility." The Dominion lawsuit had become connected to the ongoing lawsuit from former Fox senior producer Abby Grossberg. Grossberg, who had previously worked on Maria Bartiromo's show, claims in her lawsuit that she suffered sexual and religious discrimination by Carlson and other staff working on Tucker Carlson Tonight.
For as long as Fox News has stuck with Tuck, Carlson has become a caricature of far-right talking points, especially the ongoing culture wars. He's gotten upset about how un-sexy the M&M mascots have become, promoted ludicrous climate change conspiracies, and pushed misogynistic menanists who sponsored tanning your balls.
And even as Carlson's far, far, far right push into racist concepts like "great replacement" theory caused the network to lose top advertisers, the network still signed a multi-year deal back in 2021 that included a new video podcast and so-called Tucker Carlson Originals. Fox News makes most of its money in cable carriage fees. Last year, Fox Corp noted in its earning report the network collected $1 billion in affiliate fees for its cable network programming but just $451 million from sponsors. Still, both revenues were slightly down for those three months year-over-year.
---
This article is part of a developing story. Our writers and editors will be updating this page as new information is released. Please check back again in a few minutes to see the latest updates. Meanwhile, if you want more news coverage, check out our tech, science, or io9 front pages. And you can always see the most recent Gizmodo news stories at gizmodo.com/latest.