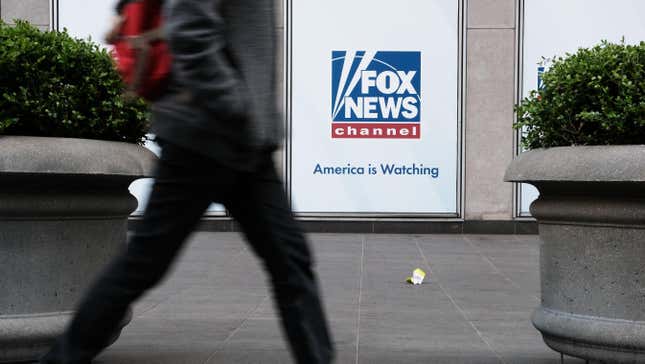 Fox News's $787.5 million settlement agreement with Dominion Voting Systems is a hefty chunk of change. It's one of the largest defamation payout ever for a defamation suit representing more than half of its total profit from last year, though the right-wing media company will likely sustain the blow. But the payout itself has led to a massive wave of speculation and conjecture. Was Fox going along with its previous settlement goal, or was it more concerned about what would come out in court?
Twitter Is Shifting Right | Future Tech
We now have a strangled pinhole of light on Fox's decision-making process. Based on several anonymous sources connected to Fox, Bloomberg reports that the News Corp-owned media company was pushed into settlement talks because of the unexpected lawsuit from former Tucker Carlson producer Abby Grossberg. She filed a sex and religious discrimination lawsuit in March and has recently contended Fox did not hand over all the necessary information for the Dominion case during the discovery process.
Grossberg has claimed in her lawsuit that Fox had "coerced, intimidated, and misinformed" her to provide false testimony last year regarding what she knew about Fox's proliferation of the bungled 2020 election fraud allegations. During a pre-trial hearing, Dominion shared several recordings made by Grossberg documenting calls between host Maria Bartiromo and Rudy Giuliani, Trump's lawyer at the time, as well as other figures for Donald Trump's 2020 campaign. Delaware Superior Court Judge Eric Davis then ordered a probe into whether Fox had withheld evidence during discovery. Fox lawyers claimed they didn't know about the tapes until recently. Even with the settlement, that probe is ongoing.
Parisis Filipatos, Grossberg's lawyer, told MSNBC last week that his team turned over the recordings to Fox months ago, but later realized those tapes were not found anywhere in the Dominion lawsuit records. Bloomberg cited its sources saying the network was concerned the tape would be used to hurt its hosts and Fox Corp Chairman Rupert Murdoch when they would be likely asked to stand as witnesses. Murdoch is the executive chairman of News Corp., Fox's parent company.
A Fox News spokesperson told Gizmodo in an email statement "Bloomberg's report is wildly inaccurate and completely false."
The Wall Street Journal, which is also owned by News Corp., shared a timeline of how the settlement started and finished, painting the image that both sides had a good reason to settle. The settlement was devised over four days by mediator Jerry Roscoe, who was on a European river cruise at the time.
The Journal reported that Fox had been seeking a settlement for quite some time. According to an interview with an exec with the private equity firm that owns Dominion, the election tech company wanted the network to sweat until they managed to expose some of the election lies given wings by Fox hosts and execs. Emails and texts from inside Fox showed hosts privately shared their concerns and antipathy toward the election deniers. Murdoch himself was also dragged for how he supported Republicans in both Congress and the White House despite the hurricane of "Stop the Steal" lies after the 2020 election.
The Grossberg tapes themselves are tangentially relevant to the Dominion case, but it remains unclear how much play they would have seen in court. MSNBC aired a part of the off-air recordings between Bartiromo and Guiliani, where the "Big Lie" figurehead said he "can't prove" that House Speaker Nancy Pelosi had a financial "interest" in Dominion. This was a major aspect of the "stop the steal" pusher's allegations less than three years ago. Guiliani's speculation into Pelosi and Dominion's relationshipp was not previously one of the main statements made on the air that Dominion contended was defamatory.
If Fox was concerned about the way its leaders would look, that hasn't come through in its after-action announcements. Fox devoted all of six minutes to the settlement announcement on Tuesday during four hours of broadcasts. After they announced the payout, the election technology company's lawyers declared it a victory representing "vindication and accountability." Fox, on the other hand, said it "reflects Fox's continued commitment to the highest journalistic standards." The Intercept reported Wednesday that Fox's stock only took a brief hit after the settlement, but was quickly back to trading where it had been on Election Day 2020.
Still, Fox has more defamation lawsuits coming around the bend that could punch a hole in its thinning credibility. Smartmatic, another electronic voting machine company, is working on its own multi-billion defamation lawsuit against Fox. The company is also facing some blowback from shareholders. These lawsuits will be emboldened by Dominion's outcome, so even more settlements could be in Fox's future.