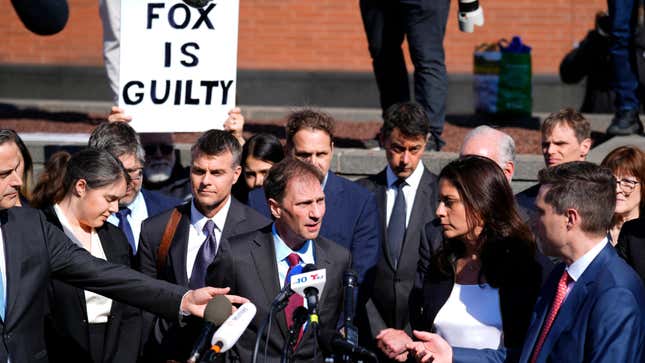 Dominion Voting Systems and Fox News have reached a settlement in the companies' two-year-long defamation dispute. The agreement was announced by the case's presiding judge in court on Tuesday afternoon, according to multiple reports—coming just hours after jury selection was completed. The decision by both parties to settle moves what could've been a landmark case for media and misinformation out of the courtroom, and thus out of the public eye.

The Boogeyman's Sophie Thatcher Reveals What Draws Her to Dark Characters | io9 Interview
The settlement grants Dominion a $787.6 million payout, less than half of the $1.6 billion in damages the company had initially demanded, according to the New York Times.
"We are pleased to have reached a settlement of our dispute with Dominion Voting Systems. We acknowledge the court's rulings finding certain claims about Dominion to be false. This settlement reflects Fox's continued commitment to the highest journalistic standards. We are hopeful that our decision to resolve this dispute with Dominion amicably, instead of the acrimony of a divisive trial, allows the country to move forward from these issues," Fox News said in a statement to the Times and Reuters. Dominion's CEO, John Poulos, reportedly called the settlement "historic."
Dominion, which supplied voting machines and software to dozens of states during the 2020 U.S. election, first sued Fox News in 2021. In that 443-page complaint, the voting tech company alleged that the media outlet knowingly broadcast multiple debunked conspiracy theories and other disinformation about its machines, which amounted to defamation and libel.
And for a time, it seemed like the case might go to trial—potentially compelling Fox News bigwigs like Rupert Murdoch to testify about their network's conduct. Just a few weeks ago, Delaware Superior Court Judge Eric Davis ruled that resolving the case would require a jury because Dominion hadn't clearly proved libelous intent. Simultaneously Judge Davis squashed Fox's attempts to weasel out of the suit entirely. In a pre-trial hearing earlier this month, Davis said Fox wouldn't be able to defend itself under the umbrella of "newsworthiness."
But just yesterday, the trial was delayed for settlement talks. And now, we're here. There will be no trial. There will be no public testimony. Dominion's complaint has been sated with dollar bills. Though, Fox News hasn't yet escaped all legal scrutiny for its 2020 election coverage and promotion of "stop the steal" conspiracies. Smartmatic, another voting machine maker, still has an outstanding lawsuit against Fox. That pending case could be even bigger, as Smartmatic is seeking $2.7 billion in damages.
This article is part of a developing story. Our writers and editors will be updating this page as new information is released. Please check back again in a few minutes to see the latest updates. Meanwhile, if you want more news coverage, check out our tech, science, or io9 front pages. And you can always see the most recent Gizmodo news stories at gizmodo.com/latest.