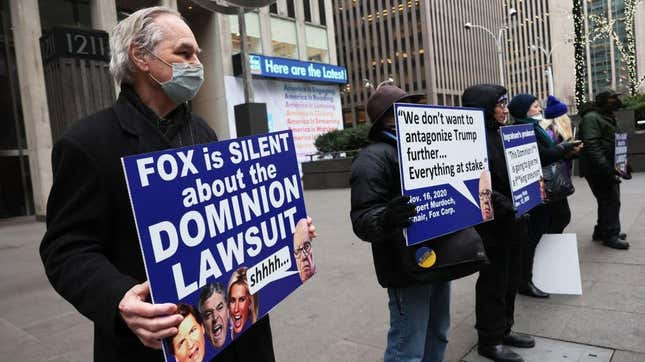 Fox News' defamation trial, set to begin Monday, has been delayed by a day after the conservative cable channel proposed an out-of-court settlement. The news station is being sued by Dominion Voting Systems, the maker of a small number of voting machines used in the 2020 presidential election, for its claims that the voting process was rigged against former President Donald Trump.
Twitter Is Shifting Right | Future Tech
Delaware Superior Court Judge Eric Davis said in a statement posted on Twitter that the trial and jury selection would start at 9 a.m. on Tuesday but did not release additional information regarding the decision. The Wall Street Journal (owned by Rupert Murdoch, like Fox) reported that the decision was due to a proposed settlement as Dominion seeks $1.6 billion in damages.
Fox said in a motion filed late Sunday that the voting machine company had decreased that demand by half a billion dollars. Fox said in an email to Gizmodo, "FOX has made clear that Dominion's damages are wildly inflated which Dominion has now finally admitted at the 11th hour."
Dominion said in a motion filed Monday, "The damages claim remains. As Fox well knows, our damages exceed $1.6 billion."
Although Fox News has strenuously denied the claims it promoted lies, messages between the outlet's stars deriding Trump's false claims of voter fraud give credence to Dominion's case, which says Fox was aware it was pushing misinformation even as its hosts repeated and agreed with Trump's statements. Dominion claims it suffered $600 million in damages as a result of Fox's broadcasts.
Dominion claims Fox's desperation to increase viewership led it to lie. The right-wing cable channel faced competition from even further right outlets steeped in conspiracy theories and misinformation, including NewsMax and One America News Network. Both stations promulgated Trump's claims that the voting system was rigged. Dominion claims Fox News searched for ways to compete with the stations, ultimately settling for promoting similar false claims, according to internal text messages and emails unearthed in discovery.
Dominion claims in the lawsuit that Fox News anchors "recklessly … spread and endorsed these outlandish voter fraud claims about Dominion even as it internally recognized the lies as crazy, absurd, and shockingly reckless." The company claims that "a mountain of direct evidence demonstrates" Fox News acted with "actual malice without resort to motive or other circumstantial factors."

Dominion declined to comment in an email to Gizmodo.
During a pre-trial hearing last week, the judge ruled a key argument from Fox's lawyers wouldn't hold water. "Just because someone is newsworthy doesn't mean you can defame someone," Davis told Dominion and Fox's lawyers, according to The New York Times.
Among those expected to testify are star Fox hosts Tucker Carlson and Sean Hannity as well as Murdoch himself, all of whom claim they are exempt from any wrongdoing on the basis of the first amendment. This case will call into question how far the right to free speech can go to protect a news station from defamation claims.
Meanwhile, Fox is also facing another defamation lawsuit in New York from a separate voting machine company, Smartmatic, which is seeking $2.7 billion in damages. Fox denies the company's similar claims.
Updated: 4/17 1:08 p.m. to include a statement from Fox News.