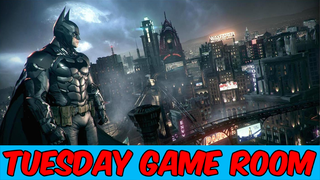 Video games are back! After an unfortunate scheduling problem meant TGR was in absentia last week, we're back—and we're heading to the dark streets of Gotham with the third and final Rocksteady Batman game. Are you donning the cowl this week? Come talk gaming in the new Tuesday Game Room!
What have you been playing this week?
A combination of work and watching E3 nonsense all of last week meant I didn't play much last week, but I finally dabbled in playing Splatoon, and to a greater extent playing the Wii U I purchased to, err, play Splatoon.
I really like it! The game itself is fun and especially exciting in its three-minute-a-match setup that I can just work in a game or two when I have the time. Also, weirdly enough, the motion controls I was fully expecting to hate (in Splatoon, by default the camera control is tied to the gyroscope of the Wii U Gamepad, especially for vertical movement) actually work extremely well, and I stuck with them after trying out the alternate, non-gyroscopic controls. It's an absolute blast to play, and honestly, makes me kinda glad I got a Wii U. Now there's a bunch of other exclusives I want to try, but Splatoon is definitely taking up my time for now.
New Releases!
We might be only just out of the E3 madness, but there's still quite a few games out this week. Of course there's Batman: Arkham Knight, out today on PC, PS4 and Xbox One, but Final Fantasy XIV gets also gets its first expansion, Final Fantasy XIV: Heavensward on PC and PS4, and at last, Tales From The Borderlands Episode 3 hits PC, PS3, PS4, Xbox 360 and Xbox One.
Aside from that there's Ride on PS3, PS4, Xbox 360 and Xbox One, Devil May Cry 4 Special Edition on PS4, Xbox One and PC, the free-to-play launch of Planetside 2 on PS4, and finally, a new upgrade for Art Academy in Art Academy: Atelier on the Wii U eShop.
And now, the News

Once again it's time for a few select picks from the last week of Gaming news, via Eurogamer:
Fallout Shelter is already one of the biggest iOS apps around - Well, I don't think anyone anticipated this. The surprise reveal (and release) of Fallout Shelter, a mobile spinoff where gamers can manage their very own Fallout vault and try (or try not to) keep their Vault citizens alive in the nuclear post-apocalypse, last week at E3 has been doing very well for Bethesda, seeing the game skyrocket to the third biggest gaming app on iOS (alas, no android release yet) already, beating the likes of proverbial screen-tappers like Candy Crush. Who would've thought Fallout on phones could print so much money?
Bungie terribly defends the UK price of its new Destiny Expansion - I added the terrible in there, as try as awfully as he might, Taken King director Luke Smith completely whiffed in this interview with Eurogamer. Destiny's upcoming major expansion is a "budget" release in the US at $40, and gamers burned by Destiny's original lack of content were already wary of the price. In the UK however, the expansion will cost £40—the equivalent of $63 dollars. Bungie's response? Deal with it, basically.
Batman is borked on PC - Excited about it being Batman day? Well, maybe you should be a little less excited if you're planning on playing Arkham Knight on PC. Widespread reports about terrible performance, a 30FPS framerate cap, and a litany of bugs have seen PC fans savaging the port, handled by studio Iron Galaxy rather than Rocksteady, and demanding refunds on Steam. You might want to hold off to see if it gets fixed.
Microsoft's Phantom Dust reboot fades to vapor(ware) - Poor Phantom Dust. The cult classic game got a shot in the arm at E3 2014 with the shock announcement of a new game in the series, but it seems like, following development issues first revealed by our sister site Kotaku and Microsoft's own hesitance, it's done for good. The company have confirmed that no one has stepped in to replace Darkside Games on the project, and given Microsoft's handling of it the first time round, it seems like no one will for a very long time.
We'll be back this time next Tuesday for more gaming discussion, but for now, sound off in the comments with the games you've been playing, and what you're looking forward to this week - and don't forget to join the unofficial io9 community group on Steam!
---
You're reading Toybox, io9's blog for all things pop culture. From merchandise to awesome fan creations, TV recaps and critical commentary on the hot topics of the day, you can find it all here!