It's another quiet week, but that just means there's plenty of time to catch up on all the damn video games that have been coming out lately. Or, you could buy more new games and find yourself weeping at your ever-expanding back catalogue. What's it to be? Tell us in the new Tuesday Game Room!
What have you been playing this week?
Aside from more Cat Ninja escapades in Final Fantasy XIV this week, I also found time over the weekend to play the third episode of Telltale's Game of Thrones series, and... I'm still not enjoying it.
It's a very Stark (har har) difference coming to it so recently after playing an episode of Tales from the Borderlands, which manages to carve a unique whole into the Borderlands world without feeling out of place, something that Game of Thrones repeatedly fails to do. Its characters feel like nothing more than obvious clones of the main characters of the show — your Jon Snow stand-in is conflicted between his allegiance to the Watch and his House, the Daenerys stand-in must gather an army of sellswords before returning to westeros to take what is rightfully theirs, the Sansa stand-in finds herself in trouble thanks to her connection to Tyrion Lannister after Joffrey's wedding, and so on. Yet despite the desperate yearning for these stand-ins to be just like their show counterparts, Telltale are equally valid to try and make them crucial parts of Westerosi events, important players in the wider world, and it doesn't work out well at all.
I'll still keep playing, because a) I bought the season pass and b) there's a plotline I'm vaguely interested in, but for now, it's a purchase I regret.
G/O Media may get a commission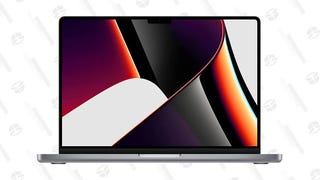 Save $300
2021 14" 1TB MacBook Pro
New Releases!
There's a few releases this week, but it's a quiet week in all after the recent madness. The Sims 4: Get To Work expansion hits PC and Mac, while baseball fans get a double dose of sporting goodness: MLB 15: The Show lands on PS3, PS4 and Vita while R.B.I. Baseball 15 comes to PS4, and Xbox One.
The only other non-Sony game this week is Neverwinter on Xbox One, the MMO set in the D&D setting. The rest are all Playstation family titles: The PS4 gets Axiom Verge, Paperbound (also on PC) and Whoa, Dave!, while the Vita gets Toukiden: Kiwami and Run Sackboy, Run!.
And now, the News
Once again it's time for a few select picks from the last week of Gaming news, via Eurogamer:
We'll be back this time next Tuesday for more gaming discussion, but for now, sound off in the comments with the games you've been playing, and what you're looking forward to this week - and don't forget to join the unofficial io9 community group on Steam!
---
You're reading Toybox, io9's blog for all things pop culture. From merchandise to awesome fan creations, TV recaps and critical commentary on the hot topics of the day, you can find it all here!