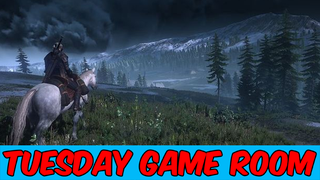 Yes, it's the week you've all been waiting for. Months of anticipation! Excitment! Yes! The next piece of Destiny DLC is finally out! Oh, and maybe also The Witcher 3, the latest sprawling RPG set in the world of Andrzej Sapkowski's fantasy novels. Getting your Witching on? Come tell us in Tuesday Game Room!
What have you been playing this week?
Aside from a whole heaping of Star Wars: The Old Republic, I spent my weekend wallowing in regret. By which I mean, I played Destiny.
Uuuuuuuuuuugh. With the new House of Wolves DLC out this week, I decided to level up a Hunter and reacclimatise myself to the game. And goddammit, it's just so frustrating. The grind to 20 is awful, then there's the other grind to try and get better and better gear. But still, I'd not played a Hunter before — flinging knives at people is fun! — and I'm ready to try out this new DLC. I'm weirdly optimistic that this will be more enjoyable than the base game, or the first DLC, but maybe that's just naivety on my part.
New Releases!
Naturally, The Witcher 3 — out on PC, Xbox One, and PS4 — is the big release of the week. But let's not forget Farming Simulator 15, out on PS3, Xbox 360, PS4 and Xbox One, you guys! What a week, what a week.
On the digital front the week is spearheaded by the release of Life Is Strange Episode 3 on PC, PS3, PS4, Xbox 360 and Xbox One, and Destiny: House of Wolves on PS4, Xbox One, PS3 and Xbox 360. Those titles are joined by a trio of games for Playstation platforms: Hyperdimension Neptunia U: Action Unleashed and Alien Shooter on Vita, and Aces of the Luftwaffe on PS4.
Finally, Friday sees the release of NASCAR '15 on PS3 and Xbox 360, and Puzzle & Dragons Z + Puzzle & Dragons Super Mario Bros on 3DS.
And now, the News

Once again it's time for a few select picks from the last week of Gaming news, via Eurogamer:
We'll be back this time next Tuesday for more gaming discussion, but for now, sound off in the comments with the games you've been playing, and what you're looking forward to this week - and don't forget to join the unofficial io9 community group on Steam!
---
You're reading Toybox, io9's blog for all things pop culture. From merchandise to awesome fan creations, TV recaps and critical commentary on the hot topics of the day, you can find it all here!