Plasma, LCD... LED?
By Brian L. Clark
Is AI Moving Too Fast? | Future Tech
I've been doing a lot of bitching lately—remember, I bitch because I care—so this week I thought I'd look at something that I'm actually kind of excited about: The use of LEDs as a backlighting source for HDTVs.
Samsung introduced what they called the first ever LED light-sourced DLP rear projection HDTV sets at this years' Consumer Electronics Show, claiming the lack of a color wheel provides smoother, more stable colors; a faster, 7-second turn-on time and a 20,000 hour plus lamp life with no picture degradation. As a result, you don't have to worry about spending $300 or $500 to change the bulb when they've exceeded their usual 3,000- to 6,000-hour lifespan. LEDs in rear-projection sets offer additional benefits, as well, including less noise (no color wheel means easier cooling), no mercury and lower voltage, which means less cost to operate.
All of the aforementioned claims are echoed by David Naranjo, an analyst at research firm DisplaySearch. "LED's definitely offer advantages over UHP [ultra high powered] bulbs," says Naranjo. But he also cautions that while LEDs offer many benefits, "the current configurations of TVs on the market are not optimized for LED use." The end result, he adds, is that projection sets lit by LEDs are likely to be priced between $500 and $700 more than a comparable 1080p DLP set that uses a UHP lamp.
G/O Media may get a commission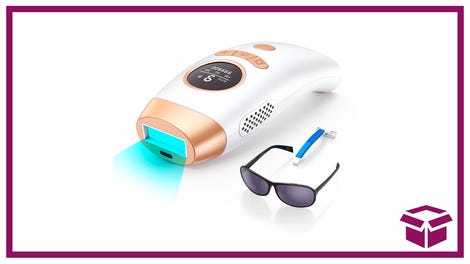 58% Off + Coupon
IPL Hair Removal Device
In fact, the real price differential appears to be somewhat higher. For example, a Samsung HL-S5679W, the 56-inch set the Korean electronics giant introduced at this year's CES, is listed at $4,000. That's about $1000 more than a more traditional 1080p DLP set.
Ouch.
The HL-S5679W was supposed to be available in April, but it appears as though it hasn't hit stores yet. Except for the option to "pre-order" at a couple online outlets, I couldn't find anyone that had it in stock.
The price is even steeper when you look at LCDs backlit with LEDs. While the benefits to LCD sets are said to include a larger color gamut, dynamic white control and a reduction in motion artifacts, the cost of those benefits is significant. In fact, Sony's been using LED backlighting in some of its extraordinarily expensive Qualia televisions for the last year or so. And if you have $8,000 and the stomach for it, you can buy the Kdx46Q005, a 46-inch LED backlit 1080p LCD HDTV right now.
Alas, it appears the high cost for LED backlighting on LCD TVs is unlikely to drop for the next year or two, according to Naranjo. "As far as LEDs for LCD backlights," he says, "several companies are working on improving the cost benefit curve." The good news is that a host of companies, including Osram Opto Semiconductor in Germany and Coretronic in Taiwan are ramping up to enter the market to make LED backlights for televisions, so it shouldn't be long until market pressure helps to lower the price.
All of this is to say it appears to me that LED backlighting is the next big thing in HDTV. And it's something I believe is actually worth getting excited about. I mean, what else can manufacturers do? Increase resolution to 2160p? Now, if they can only get the price down to that magical $1,000 for a 42-inch set, count me in. At least, until the next great innovation comes along.
Brian L. Clark is a reporter and consultant on all things digital, runs the The Tech Enthusiast's Network, and writes for Money, Men's Health, and Laptop. Read more Tuning Fork here.