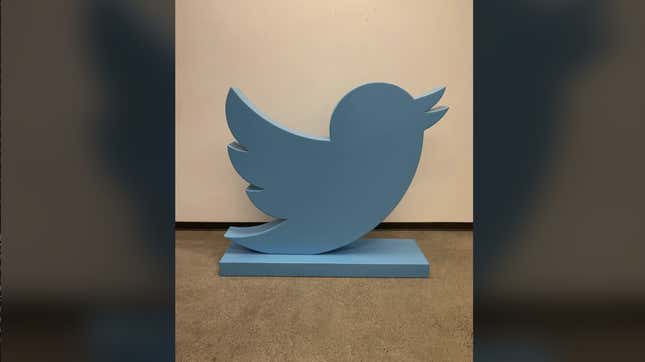 A floor statue featuring Twitter's blue bird logo sold for $100,000 in a Wednesday auction of more than 600 office items the company's new overlord, Elon Musk, decided it no longer needed.
Mr. Tweet Fumbles Super Bowl Tweet
The blue bird statue raked in 4,000 times its $25 opening bid, becoming the highest grossing item of the fire sale. At 46 inches wide x 41 inches tall x 12 inches deep, the statue doesn't seem to be anything particularly special. Bidders obviously disagreed with me and went to war over the statue, increasing their bids from $30,000 to $100,000 in the last hour of the auction, according to SFGATE. It's not clear what the statue's made of, though at least one reporter covering Twitter tweeted that it was made of flimsy foam board.
Twitter logos were the hot commodities of the office garage sale, which was hosted by Heritage Global Partners. SFGATE reported that a 10-foot-tall Twitter neon blue bird sign, also fought over in the final hours of the auction, sold for $40,000 and was the second-highest grossing item. In third place was an "@" 73-inch x 75.7-inch sculpture planter, which can house real plants, bringing in $15,500.
Heritage Global Partners told Gizmodo on Thursday that it could not release the total proceeds raised by the auction at this time, pointing out that the decision to disclose belongs to Twitter.
Logos weren't the only items on sale in Wednesday's auction, though. The office garage sale featured a hodgepodge of office supplies and furniture, industrial kitchen devices, and company memorabilia from the pre-Musk era.
Speaking of Musk, there was nothing the world's biggest cheapskate—who has stopped paying rent and paying suppliers—wouldn't sell. According to the Heritage Global Partners auction site, Twitter's lot included:
102 chairs

97 tables

60 TVs

42 stools

8 ovens

6 espresso machines

40 whiteboards

20 cushions

9 benches

9 refrigerators

8 cabinets

8 podiums

5 swivel chairs

4 freezers

14 monitors

68 power strips

107 cases of KN95 face masks (151,800+ total masks)

And more!
While it's unlikely that the auction brought in the kind of bucks Twitter needs to make a dent in its $1.5 billion annual interest payments, which are part of the $13 billion in debt Musk saddled the company with in order to buy it, cash is cash, I guess. Judging by reports that Twitter's revenue is down 40% year-over-year and that 500 of its top advertisers have fled since Musk took over, the company is going to need every dollar it can get. The Financial Times reports that the first installment of interest payments would be due at the end of January.
Update 1/19/2023, 12:40 p.m. ET: This post has been updated with additional comment from Heritage Global Partners.