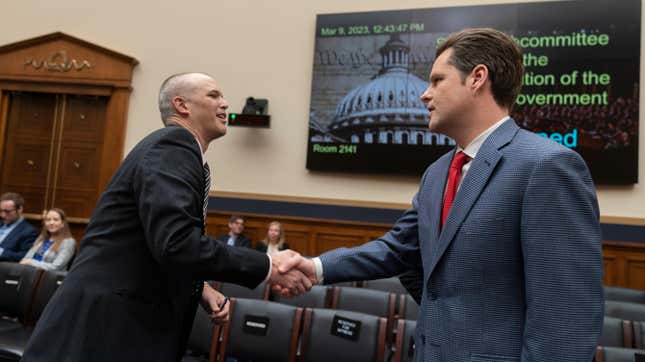 Matt Taibbi, one of the "Twitter Files" reporters selected by Elon Musk himself, no longer tweets. Instead, the journalist once-hell bent on holding Wall Street to task, now "truths" on Donald Trump-affiliated social platform, Truth Social.

Mr. Tweet Fumbles Super Bowl Tweet
In the fallout of Elon Musk's alleged suppression of Substack links on Twitter, the Twitter Files reporter implied his departure from Musk's platform in an April 7 post. "I'm obviously staying at Substack, and will be moving to Substack Notes next week," he wrote. He hasn't posted a new tweet since Friday. Instead, he's been active on Substack where he hosts his Racket News blog, the new Substack Notes, and—as of Wednesday night—Truth Social.
Taibbi has penned six total posts on Truth social since May 2022. Four of them are from the past 16 hours. Yesterday, the journalist made two posts hyping up his most recent Substack blog, titled "Meet the Censored: Me?." In a third post he claims he's "working on a Fauci story." His most recent "truth" is commentary on a Washington Post article regarding a military leaker.

This was such big news for the platform that Truth Social even sent out a push alert about it to users.
Unfortunately for Taibbi, he will probably find it a little tough to attain as large an audience on Truth as he has on Twitter. Hyping his Substack there might not gain him the numbers he'd like. On Twitter, Taibbi has about 1.8 million followers. On Truth, he currently has just over 20,000. In total, Truth Social has an estimated ~5 million users, per a recent Forbes report, counter to the 81 million users the Trump-founded platform was aiming for.
What are the Twitter Files?
The Twitter Files are a series of reports released on Substack at the end of 2022 and into this year. Taibbi and his colleagues who worked on the features claimed their work demonstrated political favoritism and U.S. government censorship behind the scenes at the social media platform in the pre-Musk days, purportedly amounting to one of the biggest scandals of our time.
The Twitter Files quickly became a talking point for the Right, including among politicians like U.S. House Rep. Jim Jordan and Senator Ted Cruz. Taibbi testified in a congressional subcommittee hearing where he called the Twitter Files the most important thing he'd ever worked on.
Yet, Taibbi has faced a lot of criticism over his reporting on the Files. Most recently, and perhaps most notably, Mehdi Hasan pointed out a few glaring errors and omissions in Taibbi's work—which the MSNBC journalist characterized as shoddy and lacking context in a heated TV interview.
During that interview, Hasan repeatedly asked Taibbi if he had criticisms of his apparent Twitter Files source, Musk. Yet the former Rolling Stone journalist declined to provide any . "I like Elon Musk," Taibbi said. "I thought his motives were sincere about the Twitter Files. I admired them."
Taibbi even refused to engage with Hasan on the question of Musk's willingness to censor critiques of India's government on his platform—all while peddling the idea of "free speech."
Why Did Taibbi Leave Twitter?
Taibbi seemed on very good (perhaps too good) terms with Musk throughout his tenure working on the Twitter Files. Yet that relationship appears to have rapidly soured in the past week because of a spat over Substack links.
Musk banning journalists on Twitter and green-lighting Indian Prime Minister Narendra Modi's quest to silence people in Pakistan wasn't much of a problem for Taibbi. Instead, the final straw was busted Substack embeds.
On April 5, Substack announced "Notes," a sub-platform for short posts, which Musk has called a "Twitter clone." To be fair, Substack Notes does look a whole lot like Twitter—but every social media site kind of looks a whole lot like every other social media site. And Twitter too has explored expanding into Substack-esque turf. (While writing this post, in fact, Musk introduced a Twitter feature intended to help site users monetize their long form writing.)
Two days after the initial Notes announcement last week, Twitter users were unable to interact with Substack links and Substack writers couldn't embed tweets in their newsletters. Taibbi (and other Substack writers) were upset by this. Taibbi's particular complaints included that—by suppressing Substack— Musk had also censored the Twitter Files (oh, the irony). Taibbi claimed his links were "being blocked," across Twitter and made his moving to Notes announcement.
Musk then denied blocking Substack links. In a counter set of accusations, the Twitter CEO claimed that Taibbi is a Substack employee (which he is not), and that Substack was trying to "download a massive portion of the Twitter database...so their IP address is obviously untrusted," (which Substack CEO Chris Best denied).
The Substack issues on Twitter seemed to mostly resolve by Sunday evening. Yet, Musk wasn't done sparring with Taibbi. The billonaire posted some DMs between him and Twitter Files journalist on his platform Monday, which he later deleted, per a report from The Verge.
All in all, it's been a pile of petty mess wherein the ultimate outcome is that Taibbi left one struggling social platform for another.
Self-Censorship
In his most recent Substack blog, hyped on Truth Social, Taibbi equates his departure from Twitter with censorship. But clearly, he left the platform of his own volition.
At least though, he finally seems willing to offer (softball) critiques of Musk. "He's as high as Snoop in a weather balloon if he thinks banning commercial rivals is going to solve Twitter's problems," Taibbi wrote of the "Chief Twit" in the post.