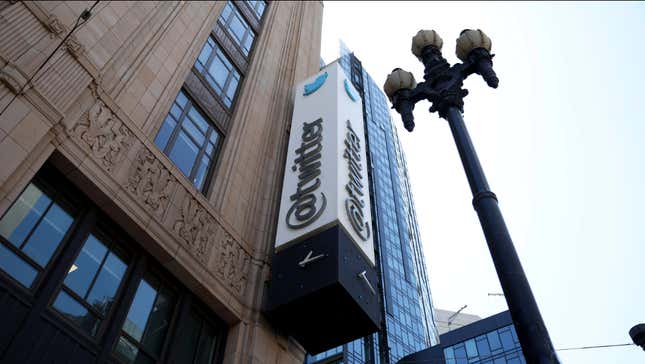 A lawsuit accuses the company formerly known as Twitter (now renamed X by Elon Musk) of helping the government of Saudi Arabia to spy on and violate the human rights of Saudi political dissidents. The legal complaint, which was originally filed in the U.S. District Court of Northern California this past May, was revised last week with new allegations against the tech giant.

Mr. Tweet Fumbles Super Bowl Tweet
The lawsuit was originally filed by Areej al-Sadhan, the sister of a former Saudi aid worker, Abdulrahman al-Sadhan, who was forcibly "disappeared" by the Saudi government and later sentenced to 20 years in prison based solely on tweets he made that were critical of the government. Al-Sadhan ties her brother's experience to a broader alleged pattern in which the tech platform shared a significant amount of user data with the Saudis, while also doing little to stop certain Saudi government operatives within the company from abusing access to user data. In the lawsuit, al-Sadhan summarizes her ordeal like this:
"Twitter gave my brother's identifying information to the government of Saudi Arabia, which blatantly violates its terms and conditions," al-Sadhan alleges in the lawsuit. "As a result, Saudi Arabia kidnapped, tortured, imprisoned, and—through a sham trial— sentenced my brother to 20 years in prison, simply for criticizing Saudi repression on his Twitter account. The Saudi government has since denied him contact with his family or access to his attorney. I am not sure if he is alive. After I began to speak out against Saudi repression, my life became a living hell."
For al-Sadhan, it's not just the backwards Middle Eastern monarchy that's to blame for this miscarriage of justice; it's also the platform at the center of the scandal.
Twitter's entanglements with the Kingdom
According to the lawsuit, Twitter spent years turning a blind eye to the Saudi government's creepy activities in an effort to protect a business relationship with the powerful monarchy. The suit notably targets the pre-Musk Twitter period, when Jack Dorsey still ran things. The Guardian, which originally reported on the updated lawsuit, summarizes the changes like so:
Lawyers for Al-Sadhan updated their claim last week to include new allegations about how Twitter, under the leadership of then chief executive Jack Dorsey, willfully ignored or had knowledge of the Saudi government's campaign to ferret out critics but – because of financial considerations and efforts to keep close ties to the Saudi government, a top investor in the company – provided assistance to the kingdom.
Gizmodo reached out to Jack Dorsey's new company, Block, for comment on the litigation. Under Musk, Twitter doesn't answer media requests, so we couldn't ask the tech platform for comment.
The al-Sadhan lawsuit notably highlights a Twitter-linked Saudi espionage scandal from several years back. That case involved Ahmad Abouammo, a former Twitter manager who was ultimately found guilty of spying for Saudi Arabia and helping to ferret out political dissidents who expressed criticism of the Kingdom via the platform. Abouammo is said to have looked up and sent Twitter user data to Saudi officials. He was convicted by a jury last year for charges related to the scandal.
The lawsuit accuses Twitter of not only having "ample notice" of insider threats like the one posed by Abouammo, but of also ignoring "all these red flags" and even being "aware of the malign campaign" within the company but doing little to stop it. The suit also alleges that, at certain points, Twitter shared "significantly more" information with Saudi Arabia about its users than other countries. Saudi government operatives are alleged to have abused EDRs—emergency data requests—to gain information about users at a frightening rate.
Twitter has been accused of having problematic ties to Saudi Arabia for years. One of the largest investors in X is a Saudi prince, Alwaleed bin Talal, who purchased a massive stake in the microblogging site years ago through Saudi Arabia's Kingdom Holding Company. As of last October, that stake was reported to be worth nearly $2 billion. Because of the platform's financial entanglements with the Kingdom, the problematic data practices are especially concerning.
Sentenced to die...over tweets
Al-Sadhan is not the only Saudi citizen to suffer apparent persecution as a result of their Twitter activity. Indeed, the update to the al-Sadhan lawsuit came only days after Human Rights Watch reported that a Saudi government tribunal had sentenced one of the nation's citizens to die based merely on the man's "tweets, retweets, and YouTube activity." The man in question, a former school teacher named Muhammad al-Ghamdi, was accused of violating "anti-terrorism" laws, including "describing the King or the Crown Prince in a way that undermines religion or justice," "supporting a terrorist ideology," as well as conducting "communication with a terrorist entity." As a result of his online activity, al-Ghamdi was arrested, placed in solitary confinement, and ultimately given a death sentence by the nation's Specialized Criminal Court.