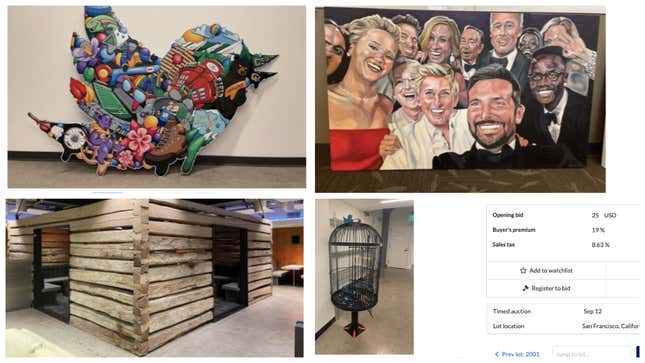 Anyone yearning to model their home living room after the business casual aesthetic of a now-flailing mid-2000s tech startup may finally get their chance. X, the company formerly called Twitter, is clearing house and auctioning off hundreds of: furniture, espresso machines, and plenty of bird-related paraphernalia from its San Francisco headquarters. One deranged buyer might even walk away with the iconic giant blue bird logo placed on the side of the company's building.

The fire sale, which kicks off on September 12, marks the clearest symbol yet of Elon Musk's self-defeating mission to rebrand the company X. Items listed, which start at $25 before bidding begins, include dozens or desks and tables, musical instruments, beer dispensers, wood carvings of birds, lights shaped to look like birds, artistic photographs of birds, paintings of birds on a monotype and, yes, a bird cage. It looks like Musk wasn't kidding when he recently tweeted, sorry, Xeeted, that the company would "bid adieu to the Twitter brand," and "all the birds." Twitter did not immediately respond to Gizmodo's request.
If any of this sounds familiar, it's because the September auction marks the second major Twitter office fire sale in less than a year. The last one, which took place in December, came weeks after Musk axed around 3,7000 employees. That sale included tons of office equipment, a hand-cranked deli meat slicer, and an entire rotisserie chicken contraption. Now, you too can take part in the ravenous gutting of a once iconic brand.
Keep reading to see some of the wackiest items up for sale in what may be Twitter's final, unglamorous death.