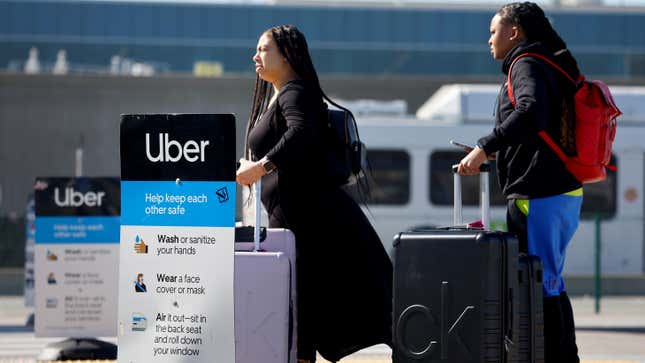 Most airports come equipped with very clear signage at every possible turn: baggage claim one way, international gates the other way, restrooms straight ahead. However, if those indicators have ever failed you, Uber is here to help.

The rideshare company seems to be tentatively expanding into a mapping and directions app. Uber will "soon" begin offering step-by-step, visual and written instructions for getting from landing gates to one of the company's pickup areas at more than 30 airports in the U.S. and abroad, as announced in a company press release on Tuesday.
Domestic airports covered by the new feature include ATL, BWI, BOS, DFW, ORD, LAX, MIA, JFK, SFO, DCI, and more. Internationally, the in-airport instructions are coming to BLR, DEL, LHR, MAD, MEX, CDG, FCO, CGH, SYD, and more. Uber noted that it plans to expand to additional locations in the future.
The company will also begin calculating and offering airport walking ETAs in its directions, and elsewhere in the app—including estimates for the time it takes to get from airport gate and baggage claim. The idea is that if potential customers know how long it will take them to exit the airport, the more comfortable they'll be requesting or scheduling an Uber. (Though, in my experience the limiting factor time-wise exiting an airport isn't walking from point to point so much as waiting: to deplane, or for my bag to appear on the carousel—things Uber has not yet announced an app feature to resolve.)

G/O Media may get a commission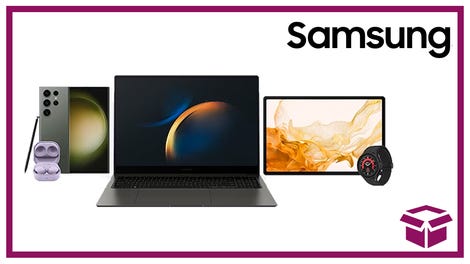 24 hour deals
Discover Samsung - Daily Deal
Uber is not the first tech company to offer in-airport navigation. Alphabet-owned Google has also begun rolling out visual and written directions for those who find themselves lost in airports and other transit hubs. In Google's version, a user's phone camera enables the Live View feature to superimpose literal arrows over one's view of the world. It looks impressive, but similar to Uber's new instructions, the use cases seem limited.
Among Uber's other newly announced tweaks and features is the ability to reserve a ride up to 90 days in advance through Uber Reserve. Which, as the company suggests, could theoretically allow you to book your rideshare at the same time as other aspects of your travel like plane tickets or hotel, and to prepare for the cost up front. Reserved Uber's will include extra wait time, at no charge, and allow for cancellation up to 60 minutes ahead of time.
Although, counterpoint: Uber's draw has always been the ability to get a ride on demand, in the moment. Air travel reliably comes with plenty of unexpected moments and requires flexibility. Locking down an Uber ride three months ahead of time seems like it could be a recipe for added frustration on top of a potential flight delay (e.g. 'I forgot to cancel the car I booked, but now I'm trapped in this airplane with shitty Wi-Fi'). But, you know, at least there's the option.
"Our goal at Uber is to help you go anywhere effortlessly, which is why we're thrilled to announce a series of new products aimed at making your airport experience smoother than ever," Jen You, Uber's head of product for rides, wrote in the company blogpost.
The rideshare giant recently posted its "strongest quarter ever," with its end of 2022 revenue report. So, given the upward trajectory, it makes sense the company would be piloting even more ways to keep the rise going. Maybe Uber's next stop will be the commercial flights themselves.