On Wednesday, former Uber engineer Susan Fowler along with California Assemblywoman Lorena Gonzalez Fletcher, the California Labor Federation, and the Economic Policy Institute will announce legislation that could have a crucial impact on fixing systemic sexual harassment and discrimination in the workplace.
The bill, AB-3080, forbids employers from forcing employees or prospective job candidates into arbitration for sexual harassment and employment discrimination complaints.

A forced arbitration agreement means an employee forfeits their right to have their complaints heard by a jury. Instead, disputes are settled by a neutral third party (an arbitrator) behind closed doors, commonly keeping the outcome secret. Forced arbitration also usually includes a clause that prohibits employees from partaking in a class-action lawsuit.

Aside from making it an unlawful employment practice to include sexual harassment and California Fair Employment and Housing Act (FEHA) complaints in arbitration agreements, the bill also prohibits "an employer from threatening, retaliating or discriminating against, or terminating any applicant for employment or prospective employment or any employee because of the refusal to consent to the waiver of any right, forum, or procedure for a violation of specific statutes governing employment," according to the bill.
Fowler told Gizmodo in a Twitter direct message that this bill is "important because it will prohibit companies from doing what Uber did to me: requiring that they waive their constitutional right to sue their employer in court if they ever experience illegal treatment." She added:
"The systemic culture of harassment and discrimination that was rampant [at] Uber, throughout Silicon Valley, and throughout nearly every industry is kept hidden and allowed to flourish thanks to forced arbitration, which is a legal loophole that bad companies use to cover up illegal behavior."
G/O Media may get a commission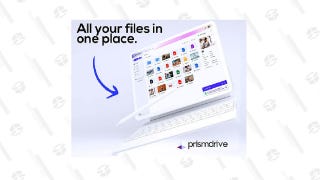 Save 97%
Prism Drive Secure Cloud Storage: Lifetime Subscription
Uber did not immediately respond to a request for comment.
Fowler has long advocated for the elimination of forced arbitration. A few months after she published her damning blog post detailing harassment and discrimination issues at Uber, Fowler penned another post listing five ways in which tech companies can improve. In it, she said that "the single most important thing a company can do to prove to its employees that it is dedicated to acting ethically, legally, responsibly, and transparently" is to end its forced arbitration agreements. Fowler herself was bound by arbitration as a condition of her employment with Uber.
"Forced arbitration deprives employees of their constitutional rights, and it forces employees who have been treated unlawfully to keep silent about what they have experienced," Fowler wrote. "It is entirely in the interests of the company, and not the employee. It prevents harassment, discrimination, retaliation, and other unlawful treatment that employees have experienced from ever becoming public, and in doing so it continues and supports further mistreatment and unlawful behavior."
Arbitration not only helps keep the reputation of a corporation intact by hiding controversial disputes, it also oftentimes doesn't work in favor of employees, especially when it comes to sexual harassment and discrimination issues. "Arbitrators tend to be white and male," Michael Subit, an employment attorney, told Gizmodo. "And older."
The bill, introduced by assemblywoman Gonzalez Fletcher, will be heard by the committee on Wednesday at 11am PST at the California State Capitol.
"If this bill is passed, it will ensure that what happened to me and my coworkers at Uber will never happen again," Fowler said.