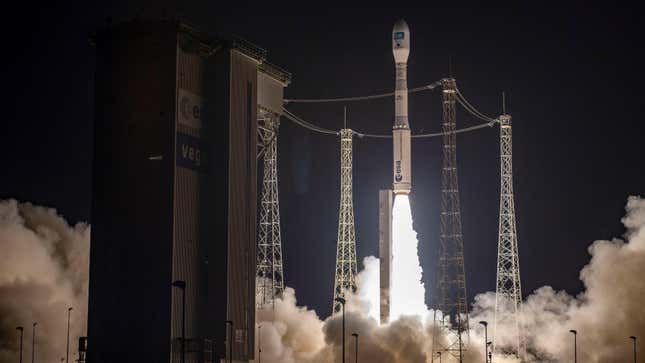 The Ukrainian space agency is not too happy with the results of an investigation into the Vega-C rocket anomaly, which blamed a faulty part made in Ukraine for the mission failure.
In a statement issued on Monday, the State Space Agency of Ukraine condemned a recent failure report, arguing that "the presented conclusions remain to be premature and may still require further investigation to identify if there could be additional factors that led to the failure of Vega C LV launch," the space agency wrote.
On Friday, the European Space Agency (ESA) announced the results of a months-long investigation into the launch failure of its Vega-C rocket in December 2022. The rocket's second stage, called the Zefiro 40, suffered a decrease in pressure and the mission was terminated about 2 minutes and 27 seconds after launch.
An Independent Enquiry Commission determined that the throat insert, a component of Zefiro 40's nozzle, was overly eroded, leading to the drop in pressure. Avio, the Italian company that built Vega-C, has since decided that it will no longer use that type of throat insert, which was produced by Ukrainian company Yuzhnoye, for future models of the rocket. The Commission confirmed that "the cause was an unexpected thermo-mechanical over-erosion of the carbon-carbon (C-C) throat insert of the nozzle, procured by Avio in Ukraine."
However, the Ukrainian government is not convinced with the results of the investigation. "The Statement which is based on the conclusions of the Independent Enquiry Commission unfortunately leaves no grounds for further discussions and casts a shadow over the reputation of the space industry of Ukraine," Ukraine's space agency wrote in its statement. The space agency also added that the components delivered to the Vega-C rocket "were completely compliant with the requirements imposed."
"Ukrainian specialists who participated in a certain part of investigation which they were granted access to, provided their considerations and suggestions that objectively did not find reflection in the conclusions of the Independent Enquiry Commission," the statement added.
Conditions in Ukraine have been steadily deteriorating since 2014, when Russia first invaded the country. And now, with the ongoing war with Russia in the east, it's far worse. Ukraine's space agency may or may not have provided a substandard component to Avio, and it's likely we'll never know. That said, it takes a village to both test and launch a rocket, and it would've been refreshing to see the blame get spread around, instead of it being pinned to a single provider.
Indeed, ESA and the European space industry as a whole are now laser-focused on getting the Vega-C rocket back in the air and delivering payloads to space. It seems unlikely that ESA and its partners will honor Ukraine's request to re-open the investigation, as they look to leave the failed launch behind them.
More: Florida Startup Moves Closer to Building Data Centers on the Moon