We're all playing with iPads today: new iPads and old iPads, iPad 1s, iPad 2s, and iPad News. As we write, we're reflecting out loud. A lot. Here's a look at our thoughts, unedited, straight from our Campfire group chat.
This is not a review. These are our gut feelings. It's the stuff that every journalist in tech talks about and nobody tells you about. This live chat follows a live conversation we had after spending the morning comparing iPads.
Jesus
Are we jaded?
this is serious question
are these products just ok, well executed and, hmm, uninspiring?
none of us are going oh wow like all the other reviewers
G/O Media may get a commission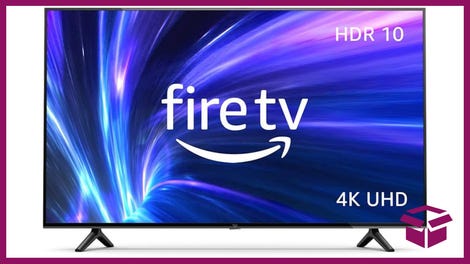 42% Off
Amazon Fire TV 50" 4K Smart TV
Sam B.
yeah good question
I think it's just a matter of expectations, yeah
Barrett
I think it's that they're still amazing products, just not as amazing-er as we might have hoped? is the sense that I'm getting?
Jesus
I think they are GOOD products
excellent
Barrett
to be honest, I think the early reviews set us up for disappointment
Jesus
but my threshold is: would I want to buy this?
Sam B.
yeah
Jesus
and I don't
Barrett
because they were SO effusive that we were expecting something better than we could imagine
but instead we got pretty much what we would have imagined or maybe not quite as good
Jesus
I have a 1st gen iPad that is great for reading books, the web and my mail
yes, maybe it's that, expectations
but I think it's more
I think the differential is the most important factor
Mario A.
iPad 2 for me it is
Jesus
differential threshold is called
right now, it's not doing it for me
Barrett
I was just wondering separately: what else could you do to an ipad to make it a must-buy?
Jesus
battery life
like, a two day battery life
Barrett
truth
Jesus
and thinner
and in the future, flexible
NOTE: Flexibility doesn't mean it would be soft like a paper page. It means you would be able to bend it and nothing will happen. Or drop it and treat it like shit without breaking it or scratching it. That's where the industry is headed.
Barrett
the way future. and I don't even think I'd care about thinner
Jesus
those would be must buys, something that would make me go "oh shit, wtf, this is great"
Sam B.
I can't even think of what would be a HOLY SHIT feature in the next ipad
Jesus
battery, lightness/thinness, flexibility
those would be the things for me
Sam B.
what could they do that's not basically incremental?
Sam B.
better screen, faster, longer battery life
Barrett
flexibility would be like the EVOLUTIONARY step, but otherwise yes, incremental gaims
I wonder if it's already run into a bit of a macbook pro problem
Sam B.
yeah that's what I'm wondering though-what would be an evolutonary step for the iPad?
Jesus
nothing really, memory and processor increases will be good as apps get more complex, but I don't see apps getting much more complex, except games
and I'm not a gamer
Barrett
where it's going to spec up beyond practical usefulness
Sam B.

what would the iPad equivalent be?
is there even one?
Jesus
I want to post this thread
Kristen P.
I think b/c iPad was so revolutionary initially it's hard to find incremental improvements to get super excited about.
Jesus
true that, Kristen
Barrett
I think jesus is right about flexibility, sam
Sam B.
yeah I agree
Kristen P.
And maybe if you could use it as a cutting board.
Barrett
right, yes
yeah INDESTRUCTABILITY would be a thing
Jesus
yes, durability/flexibility. basically that's making it more natural.
That's the word, natural
Barrett
gorilla glass 8
Jesus
but the bottom line, as it stands now and unless you are a heavy gamer and use lots of tabs in your browser, there's not much reason to buy this iPad
Michael H.
video wise...for me a major feature would be ability to play any video format
Jesus
that's software, Michael, and an ability that will never happen (it's doable now, and it's not happening)
Michael H.
yeah agree
Kristen P.
Unless you don't have one yet at all like me.
But I'm still not buying one.
Jesus
Me neither
Sam B.
same
Joe
I like my 2
it's lighter and I am a sissy
Christopher M.
my ipad 1 is way too slow, craches too often and wont do apple TV screen mirroring. For that I am buying a used ipad 2
Kristen P.
That's what I would do if anything: buy used iPad 2
Barrett
I would buy an ipad 2 refurb right now yes
Jesus
OK, I'm posting this thread. It's good material.