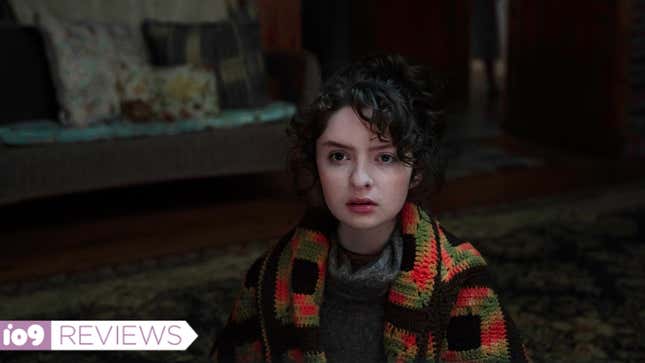 After undergoing a procedure aimed at restoring her hearing after 12 years of silence, college student Chloe (Chucky's Lachlan Watson) heads to her family's Cape Cod cottage to recuperate. It's lonely—but as The Unheard explores, she finds she's not alone, seemingly in both natural and supernatural ways.
Spoilers of the Week | June 3rd
Deafness is a surprisingly common theme in horror, used to make a character more vulnerable, and/or empower them in unexpected ways (see: Mike Flanagan's Hush, the A Quiet Place series). The Unheard taps into that but also pulls in elements from movies like The Eye, in which a formerly blind woman begins to experience ghostly phenomena after a cornea transplant brings back her sight. In Chloe's case, the experimental treatment swiftly proves successful, an apparent medical miracle that carries with it some disturbing side effects—including the fact that her hearing now appears to be enhanced by extrasensory perception.
This intriguing premise layers into a story that positions Chloe at the center of an ongoing mystery. The year she fell ill and lost her hearing, her mother vanished without a trace, a pair of tragic events that inspired her father to move himself and his daughter several states away. When Chloe returns to Cape Cod, both to recover from her operation and to start the process of readying the long-neglected home for sale, she finds plenty of psychic pain waiting for her, fed by melancholy memories—her mother's voice is the last she can recall hearing—and a stack of dusty videotapes containing home movies of happier times.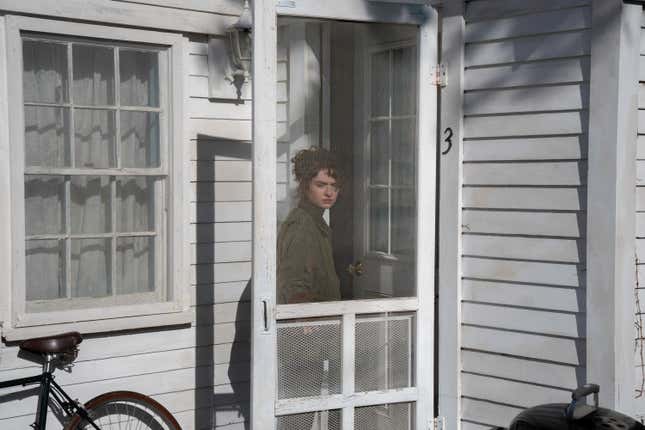 The Unheard's setting shares some DNA with director Jeffrey A. Brown's prior film The Beach House—both take place in isolated seaside communities that are ostensibly peaceful, but have a sense of foreboding hanging over them. The Unheard makes good use of the baked-in eerie quality of a vacation town in offseason mode, where something as innocuous as a light flicking on at the supposedly empty home next door can cause instant paranoia.
As we come to learn, Chloe's not as mentally stable as she pretends to be; still grieving the loss of her mother, she's been taking anti-depressants, a fact she fails to disclose to the doctor running the hearing project. When she begins to spiral—becoming fixated on those VHS tapes, which seem to be communicating with her somehow; drilling holes in the floor to figure out where the disembodied static sounds she can't escape are coming from; and even snooping around that home next door—her behavior feels reasonable for a young person dealing with a whole lot of emotional weight, even with the joyful yet confusing sensation of being able to hear again. You wish she'd taken the doctor up on an offer of therapy as part of her treatment, and you also wish her circle of acquaintances on Cape Cod extended beyond two men, both of whom could take up entire chapters in The Gift of Fear. It doesn't help that The Unheard works in a prominent subplot that lets us know that in the years since Chloe's mom vanished, the community has had an ongoing missing-young-women problem.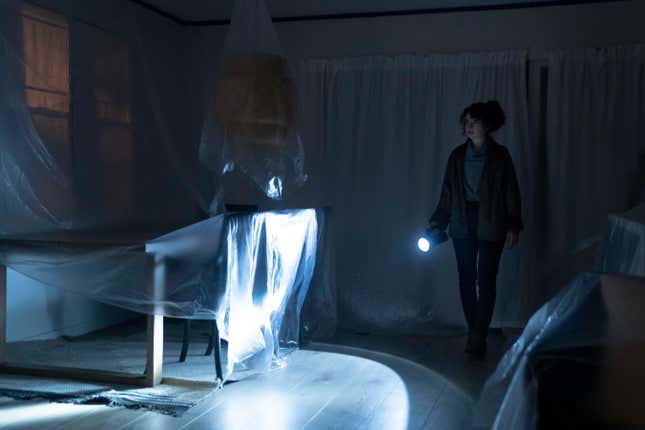 Those latter points are ultimately where The Unheard—which at two hours feels overly long, with maybe too many scenes of flickering, repetitive VHS footage—loses its bearings. Chloe's restored but unreliable hearing, and the way it ties into her ability to perceive what appear to be voices from beyond, are interesting threads for a horror movie to pull on, even if you get a good sense from the start that her mother's uncertain fate is going to prove important. Unfortunately, the cast is so small that it's not hard to pick out exactly who the baddie is. And as The Unheard pivots to a predictable cat-and-mouse scenario, even a last-minute twist can't make up for the feeling that you knew where this was heading way too early on.
The Unheard is written by Michael Rasmussen and Shawn Rasmussen, who also co-wrote the excellently tense alligator horror movie Crawl. Along with Watson, it stars Michele Hicks (Mr. Robot, Orange Is the New Black), Shunori Ramanathan (Search Party), Nick Sandow (Orange Is the New Black), and Brendan Meyer (The OA). It begins streaming on Shudder March 31.
---
Want more io9 news? Check out when to expect the latest Marvel, Star Wars, and Star Trek releases, what's next for the DC Universe on film and TV, and everything you need to know about the future of Doctor Who.