One of the biggest knocks against the DC Extended Universe has been its general lack of vibrant color compared to the comic books. In exchange for gritty realism, the DCEU—especially its costumes—come across as unsaturated and dour. That's a shame because, up close, the League's costumes look great.
Last night, Warner Bros. and DC unveiled a series of replica costumes from the upcoming Justice League movie that showcased every painstaking detail that went into bringing the characters to life. It's one thing to see the costumes in motion on a screen in a trailer—you know what you're looking at even though you're not taking it all in. But it's another thing when you actually get a chance to pore over the geometric complexity of Aquaman's chest armor or the intricate latticework that makes up Cyborg's abdomen.

G/O Media may get a commission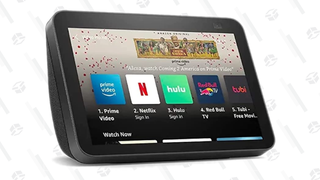 Surprisingly, all of the costumes are much more vibrant than they've looked on screen in a way that makes you wish Warner Bros. post-production color grading process were a little less aggressive.These costumes are absolutely gorgeous and when we finally get a chance to see them in theaters all together, we can only hope that Justice League gives them a chance to shine.