Shocker: It turns out that President Donald Trump was perhaps not really being all that honest when he walked out of a summit with North Korean strongman Kim Jong Un this month and declared "There is no longer a nuclear threat from North Korea."

Is AI Moving Too Fast? | Future Tech
Per Reuters and NBC News, US intelligence officials (albeit ones speaking under the cover of anonymity) believe that Kim may care a little bit more about the long-term survival of his regime than being flattered with Trumpian propaganda videos, and so may have told a few white lies about whether or not he is continuing to move forward with his nuclear weapons program. Specifically, reports suggest that while North Korea has stopped testing nukes or missiles for now, they are continuing to enrich uranium and stockpile the relevant materials.
NBC News writes:
In recent months, even as the two sides engaged in diplomacy, North Korea was stepping up its production of enriched uranium for nuclear weapons, five U.S. officials say, citing the latest intelligence assessment. North Korea and the U.S. agreed at the summit to "work toward" denuclearization, but there is no specific deal. On Trump's order, the U.S. military canceled training exercises on the Korean peninsula, a major concession to Kim.

While the North Koreans have stopped missile and nuclear tests, "there's no evidence that they are decreasing stockpiles, or that they have stopped their production," said one U.S. official briefed on the latest intelligence. "There is absolutely unequivocal evidence that they are trying to deceive the U.S."
G/O Media may get a commission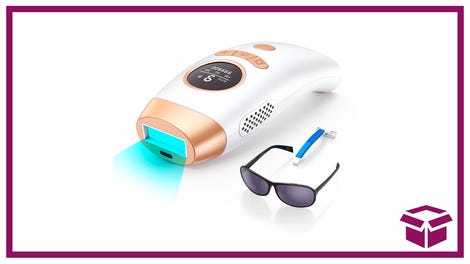 58% Off + Coupon
IPL Hair Removal Device
Four other officials agreed that North Korea is intentionally trying to deceive the US about its ongoing nuclear capabilities, NBC News reported, and others said intel suggests that North Korea is continuing to operate more secret uranium enrichment sites than previously believed.
According to Reuters, East Asia Nonproliferation Program at California's Middlebury Institute of International Studies director Jeffrey Lewis said the NBC report is indicative that Kim's government intended to pull a fast one over on Trump:
"This assessment says there is more than one secret site. That means there are at least three, if not more sites," he said.Lewis said the report also implied that U.S. intelligence had reporting to suggest North Korea did not intend to disclose one or more of the enrichment sites.

"Together, these two things would imply that North Korea intended to disclose some sites as part of the denuclearization process, while retaining others," he said.
Yet another senior intelligence official told NBC that the report only outlines a level of deception already expected by most North Korea analysts, but that it is still a positive step that the country's government is engaging at all.
Earlier this week, a separate analysis by North Korea-centric site 38 North concluded that significant infrastructural and support work is ongoing at the Yongbyon Nuclear Scientific Research Center, though they were unable to determine how much operational activity was actually going on inside the buildings. 38 North cautioned that construction work at the Yongbyon site "should not be seen as having any relationship to North Korea's pledge to denuclearize," as "business as usual" would be the ongoing state of affairs until senior officials ordered it shut down.
North Korean officials "have not yet declared that they would shut the complex down—and, indeed, they have not," Stanford University physics professor Siegfried Hecker told Slate.
This makes total sense, as North Korea has a long history of violating international agreements, and the one Kim and Trump signed at their summit agreed to "complete denuclearization of the Korean Peninsula" without defining what exactly that phrase meant. Other North Korean gestures like the demolition of its Punggye-ri nuclear test site were limited concessions at best.
In other words, Trump got his photo opp and ceased missile tests, while Kim got some leverage and other goodies like fewer US-South Korean military drills and eased sanctions enforcement.
Of course, anonymous intel officials could have any number of motivations including hawkishness, and it is still possible that more progress could be made. For their part, surveys show South Koreans are very optimistic that recent months have seen the start of a thaw in relations.
Lewis told Bloomberg that the situation is not necessarily more dangerous than before the summit, because North Korea was already building and testing nukes and missiles. Yet he did express worry about the possibility Trump "suddenly wakes up one day and realizes what's really going on," in which case "he could just explode, and then we're in real trouble." That anxiety was mirrored in another piece in the Washington Post:
However, if Trump believes Kim agreed to immediately begin "total denuclearization" of North Korea, and feels betrayed when North Korea takes actions that Kim believes are consistent with the Singapore Declaration—but which Trump does not—the temperature on the Korean Peninsula could rise just as quickly as it fell.
Sigh.
[NBC News]