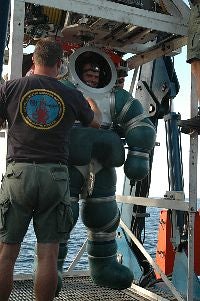 The Navy Hardsuit 2000, or Atmospheric Diving System, had its first test run, and it brought a Sailor to 2,000 feet below the sea without imploding. The suit took 11-years to develop, and is meant to scout out vessel damage on submarine rescue missions. Older suits only dove to 1,200 feet.
Chief Navy Diver (DSW/SS) Daniel P. Jackson of Navy Reserve Deep Submergence Unit (DSU) was randomly selected to certify the ADS suit for use by the Navy. Jackson said, "I was just a guy tied to a rope."
Dude, I get scared going into the deep end of the YMCA pool.
US Navy Hardsuit 2000 [ US Navy ]