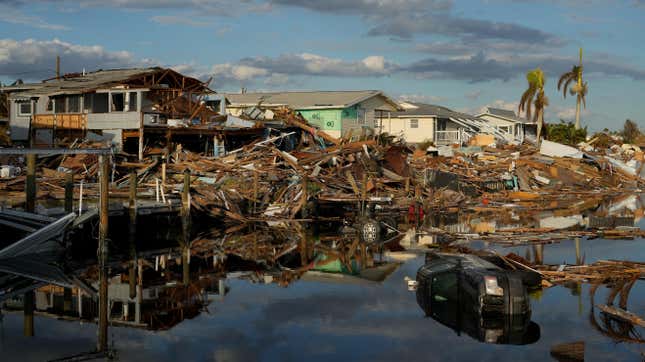 If you were already stressed about increased air pollution and more frequent heat waves, well, you can add another disturbing health impact of climate change to your list: the flesh-eating bacteria Vibrio vulnificus, which is thriving in warming U.S. waters.
In a study published this week in Scientific Reports, researchers found that infections by bacteria Vibrio vulnificus could double in the United States within the next 20 years. The spread of this life-threatening germ is being fueled by hotter temperatures that are warming coastal waters, and a growing elderly population means more people will be susceptible to infection.
Researchers note that the concerning spread has already begun. Confirmed cases of flesh-eating bacteria have been reported as far north as the Delaware Bay; historically, they've been confined to warmer states in the Southeast and along the Gulf of Mexico.
"In the late 1980's infections were rare above Georgia (32°N) but by 2018 were regularly reported as far north as Philadelphia," the study authors wrote. They also found that the number of infections along the East Coast shot up eightfold in the 30-year period from 1988 to 2018, from an average of 10 confirmed cases a year to 80.
There may be some hope for stopping the bacteria's migration north. If emissions are lowered in the next few decades, cases may extend as far as Connecticut, the team's analysis found. But in a medium-to-high emission future, bacterial infection could make it to highly population areas like New York by the 2040s. Yearly infection rates in East Coast states would jump from the current 80 a year to around 140 or even 200 reported cases a year. Under that higher emissions scenario, flesh-eating bacterial infections would spread to every state along the East Coast by the end of this century.
Vibrio vulnificus infections can spread when a person consumes raw seafood. But the bacteria also lives in warm, brackish water, according to the CDC, and people can become infected by wading or swimming with a wound, even a small one. As global temperatures rise, bodies of water along the East Coast become warmer, and this creates more suitable environments for the bacteria to thrive. People who become infected can experience vomiting, fever, diarrhea, and open skin lesions. The infection sometimes causes a sepsis response, leaving some survivors with scars or amputated limbs. Mortality rates for this bacterial infection are as high as 18% when a person is infected through a wound, and some people die as soon as 48 hours after exposure, according to the paper.
"The projected expansion of infections highlights the need for increased individual and public health awareness in the areas affected," lead study author Elizabeth Archer said in a press release. "This is crucial as prompt action when symptoms occur is necessary to prevent major health consequences."
Last year, Florida saw a surge in Vibrio vulnificus cases after Hurricane Ian, which brought residents into contact with toxic floodwaters. 2022 saw more than 70 confirmed cases and 17 confirmed deaths in Florida, according to the state's health department. It was a huge increase from the two years before: 2020 and 2021 saw only 34 and 36 confirmed cases.
The last time Florida saw a similar spike in flesh-eating bacteria cases was in 2017, after Hurricane Irma. There were 50 confirmed cases and 11 deaths that year.
Amy Sapkota, an environmental health professor at the University of Maryland School of Public Health, said the study findings should be used to spread awareness to populations that will be exposed to the bacteria in the future. "We need to ensure that public health systems are resilient and that we understand the connection between what's happening with the changing climate and what it means for human health," she told NBC News.