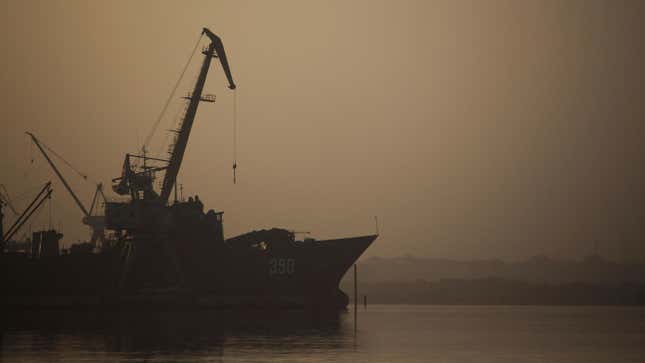 As global temperatures and emissions rise, it's going to become harder to breathe. Air quality issues won't just come from human activity, though—the natural world could also release more pollution in a rapidly warming world.
What Is Carbon Capture? With Gizmodo's Molly Taft | Techmodo
A recent study published in the journal Communications Earth & Environment found that a warming planet means more particles in the atmosphere, including dust and organic aerosols from plants. While we usually think of plants for their benefits to the environment, in certain circumstances they can actually release compounds that aren't great for our respiratory systems.
Researchers at the University of California Riverside examined how air quality could change over time as temperatures and carbon dioxide increase. They looked at data from 13 models that participate in the Coupled Model Intercomparison Project, which compares climate data outcomes. Results from the models showed that increases in CO2 and hotter temperatures will create more global average concentrations of fine particulate matter, or PM2.5. The two largest contributors will come from dust and organic aerosols from plants. PM2.5 is particularly bad for humans: Long-term exposure is linked to lung problems, heart disease, and premature death.
If global temperatures increase by 4 degrees Celsius, then dust and plant emissions are predicted to increase as much as 14%, according to the study. But if the world manages to stay within 2 degrees Celsius of warming, that increase in PM2.5 is about 7%. "The more we increase CO2, the more PM2.5 we see being put into the atmosphere, and the inverse is also true. The more we reduce, the better the air quality gets," James Gomez, UC Riverside doctoral student and lead author of the study, said in a press release.

All plants produce chemicals that are called biogenic volatile organic compounds, or BVOCs (if you've ever smelled a freshly mown lawn, you've experienced these compounds). The BVOCs oxidize in the atmosphere and form organic aerosols; an increase in BVOCs could create public health issues. "Really anybody that has respiratory issues could be negatively impacted by air pollution," Gomez told Earther. "Even an average healthy person who breathes in excessive amounts of air pollution could be negatively affected and develop respiratory issues."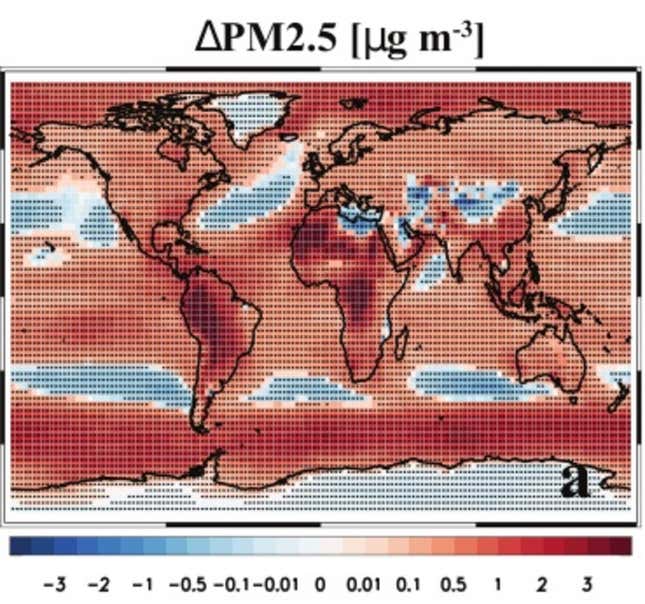 The second largest contributor to the increase in naturally occurring air pollution would come from the Sahara Desert in Africa. Results from the models showed that a warmer world means changes in wind patterns. Remember the large dust cloud from the Sahara that traveled across the Atlantic Ocean and hovered over the southern U.S. and the Caribbean in 2020? Now imagine a bigger dust cloud. "We looked at the magnitude of the change," Gomez said. "The dust events that do occur will be more likely to be stronger…The ones that happen would probably be larger."
The study did not consider other forms of air pollution caused by the natural world, like wildfire smoke, because that's harder to place into climate models, according to Gomez. Because of that omission, he thinks the results are underestimating how bad PM2.5 pollution could become if emissions and global warming aren't reigned in.
And that's not even talking about human-caused pollution. Gomez pointed out that, even though human pollution was not calculated for here, human activity has led carbon dioxide to increase in our atmosphere. "Indirectly, we are causing these changes in the natural system," Gomez said. "Nature is making the air pollution worse, as a result of our net actions."