The execs from New Line formed their new production company, Unique Features, nearly one year ago. Now we've got the list of films Warner Bros. paid for first dibs on. Ideas include copying people's personalities, and an Elf Musical.
Bob Shaye and Michael Lynne have a list of fantasy movies that should please some of the folks at the WB, but first they're going to turn Will Ferrell's Elf into a musical, which should just make gobs of money at Christmastime on Broadway. They've also got an idea for an on-screen musical adaptation of The City of Angels, which could be interesting if they line up the angel chorus just right.
But besides the song and dance features, here's the list of upcoming projects for Unique.
-Animated feature "High in the Clouds" is an adaptation of a children's book written by [Paul] McCartney, Geoff Dunbar and Philip Ardagh. The film will be directed by Rob Minkoff and adapted by Caroline Thompson. It's about a squirrel's quest to find an animal sanctuary, possibly in the clouds.

- Warner Bros. has committed to develop "7th Son," a drama based on a trio of graphic novels by J.C. Hutchins. Seven strangers, assembled after the assassination of the U.S. president, each realize they are the same man, with the same memories. Originally published as a digital download, the first novel, "Descent," is being released in the fall by St. Martin's Press. Justin Britt-Gibson is writing the script.

- WB is also aboard "Alt-Delete," a scifi comedy scripted by Tim Kelleher and Danny Zuker in which two guys working for a vidgame publishing company come to realize they are avatars in a larger game.

- Warners will also develop "Thieves of Baghdad," a 10th century family adventure steeped in the world of the Arabian Nights, with Cole Haddon writing the script. Shaye he sparked to Haddon's take on the original collection of folk tales "One Thousand and One Nights," which is in the public domain. It is a film that weaves Sinbad, Ali Baba, flying carpets, sword fights and genies in urns.WB is also at the center of the stage musical transfers of the New Line films Shaye and Lynne germinated before they left New Line:

-"The Mortal Instruments" is a bestselling young-adult fantasy trilogy by Cassandra Clare (three more volumes are in the works) about a young girl who inherited an ability to see and interact with a clan of supernatural spirits.
G/O Media may get a commission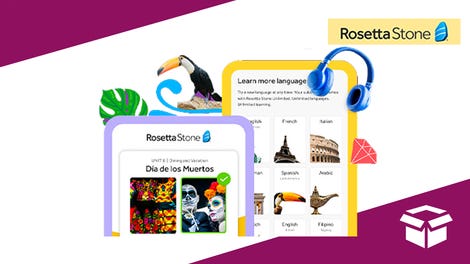 Extra 20% off
Rosetta Stone Lifetime Subscription - All Languages
[Variety]