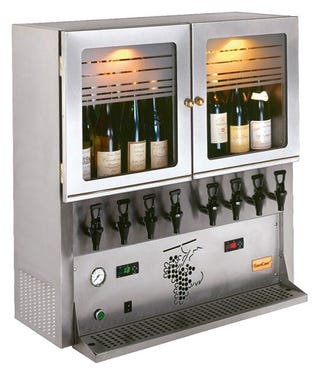 Generally one steers clear of establishments with "wine on tap", but from the comfort of one's pretentious Manhattan loft we understand that such phrases may actually be encouraged.
The Vin Au Verre can hold 8 bottles (4 red, 4 white) of your readily drinkable wines on tap for leisured consumption. Temperature is electronically balanced per wine color and an additional 8 bottles of uncorked wine (your bragging collection) can be stored behind glass with not only climate control, but UV-free LED illumination.
Our problem with the Vin Au Verre is not the price (which we can only guess is steep) but that the experience of uncorking, decanting and appreciating the bottle is lost. Wine is nothing if not a romantic spectacle, but screw (top) it, we'll all be sucking from juiceboxes in a few years anyway.
Product Page [via coolestgadgets]