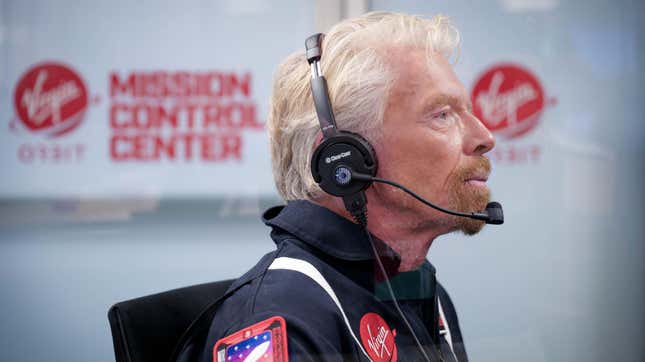 Virgin Investments Limited has pumped $55 million into Virgin Orbit since November of last year, in what is a troubling sign for the fledgling satellite launch company.

Astronomers Could Soon Get Warnings When SpaceX Satellites Threaten Their View
Cash flow problems, an achingly slow launch cadence, and a botched satellite delivery in January—these are a few of our not-so-favorite things when it comes to Virgin Orbit these days. The Richard Branson-owned company is struggling, and based on recent developments, it appears to be struggling quite badly.
U.S.-based Virgin Orbit received a $10 million senior secured convertible note from Virgin Investments Limited (VIL), the investment wing of Branson's Virgin Group, as detailed in a February 1 filing with the U.S. Securities and Exchange Commission. Funds from the loan, with an effective date of January 30, will be used by Virgin Orbit as working capital. That raises the total to $55 million that VIL has punted over to Virgin Orbit in the past three months.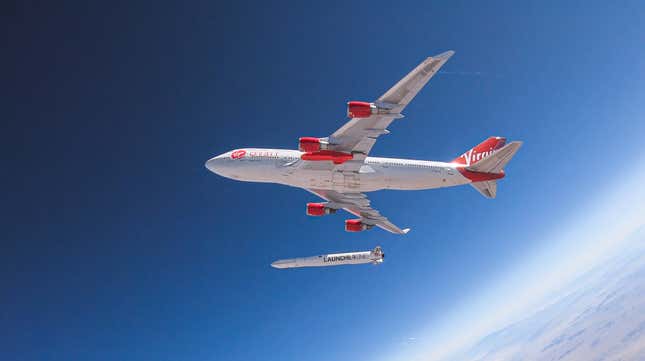 Not to be confused with Virgin Galactic, Virgin Orbit is in the business of launching small payloads to low Earth orbit, which it does with a modified Boeing 747 aircraft named Cosmic Girl and its LauncherOne rocket. Virgin Galactic, also within Branson's Virgin Group, uses spaceplanes to launch space tourists on suborbital flights. Virgin Galactic has had its own problems, but flights from the commercial space flight company are set to resume at some point during the second quarter of 2023.
The newly acquired senior secured convertible note carries an annual interest rate of 12% and a maturity date set for November 24, 2024. I'm no financial expert, but 12% interest is a lot. The note can conditionally be converted into Virgin Orbit shares and, importantly, VIL is "granted a first-priority security interest on substantially all" of Virgin Orbit's respective assets, "including all aircrafts, aircraft engines (including spare aircraft parts) and related assets," according to the SEC filing. So if Virgin Orbit is forced to declare bankruptcy, Branson gets first rights on all this stuff—including Cosmic Girl—ahead of other creditors.
The $10 million injection now gets tacked onto VIL's other recent investments: a $25 million senior unsecured convertible note issued on November 4 and a $20 million senior secured convertible note from December 19, both at 6% interest. The latter debt, being secured, also grants Branson first rights to Virgin Orbit's assets.
The launch provider had been short on cash in the preceding months, with Parabolic Arc reporting that Virgin Orbit's net loss through September averaged $15.5 million per month, meaning that the $10 million injection will run out in a matter of weeks. The company ended the third quarter of 2022 with $71 million in cash, but even with the recent loan, "its current rate of losses could put the company at risk of running out of cash as soon as the second quarter unless it can secure additional funding," SpaceNews reported. We'll learn more about Virgin Orbit's financial situation in late March, when the company is expected to release its fourth-quarter earnings for 2022.
Virgin Orbit's performance to date has not been stellar. The company, founded by Branson in 2017, has mustered just five launches since going into operation in January 2021, the most recent of which, the Start Me Up mission, failed 30 minutes in, spoiling the first attempt at an orbital launch from British soil. LauncherOne is now grounded pending an investigation.
The company's financial woes and troublesome track record will be of concern to the Luxembourg Directorate of Defense, which recently signed an agreement with the company. Luxembourg and its partners are hoping to use the LauncherOne system to advance NATO's reach into space.
More: SpaceX Claimed Starlink Was Available in Africa Last Year, but It Just Arrived