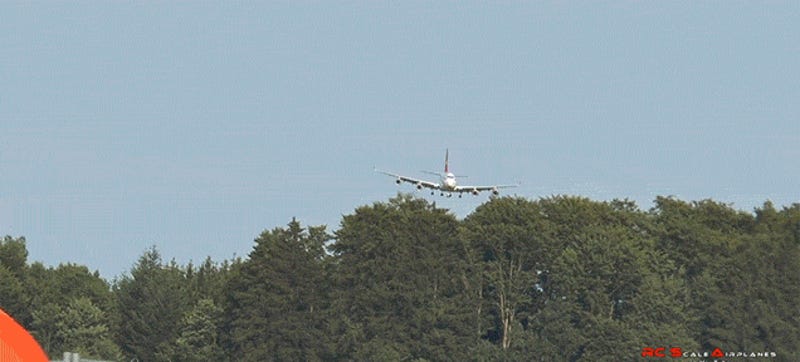 This incredible aircraft is modeled after the Boeing 747 Jumbo Jet and pretty much mimics it in every way, except it's at 1/13 scale. Which makes it a very enormous model airplane! Its wingspan is 16 feet wide, its nearly 18 feet long, and it weighs about 150 pounds. Built by Adi Pitz, it's pretty damn incredible. It…
Boeing's 787 Dreamliner and Airbus' A380 are both competing to replace an aging fleet of 747s that have served passengers for more than 40 years. But what's to be done with all those jumbo jets once they're been replaced? MotoArt has the answer—at least when it comes to the 747's gigantic engines: a stylish conference…
Click to viewWhere do 747s go when they die? In this particular case: Malibu, to become a luxury home. And that's not just a flight of fancy—the construction is on pace to be completed later this year. A closer look:
Say whatever you want. It may be naff. It may be tacky. It may not attract buxom women in tiny black dresses. It will make me look like that guy. What. Evah. The Motoart PW-747 Cowling Bar rocks my world:
Back in 2006, Oscar Diös heard there was a dead Boeing 747-200 built in 1976 on one of the runways at Arlanda Airport, the largest international airport in Sweden, north of Stockholm. It was once owned by a Swedish company called Transjet, who used it to fly muslim pilgrims to Mecca, as well as doing charter flights…
Mounted on a transmogrified Boeing 747 is this airborne laser, making the otherwise graceful plane look like a clown-nosed guppy. But this big U.S. Air Force aircraft is the last thing a enemy missile commander wants to see. It can hunt down and kill an evil-doer's missiles from amazing distances—the extent of which…


Next time you decide to take a little joyride behind a Boeing 747 with its engines at full throttle cranking out 58,000 lb. of thrust each, think of this video from the Brit car series Top Gear. Forget how small electronics fare in a blender. We want to see how large machinery stands up to a 747!
Sure, it's a publicity stunt for Volkswagen, but we thought this was one cool picture, a V-Dub Touareg V10 towing a Boeing 747. The diesel Touareg's V8 engine managed to pull that 155-ton Boeing 747-200 for about 450 feet at 5mph, bringing it to a stop with its stock brakes. More dramatic pics, after the jump.