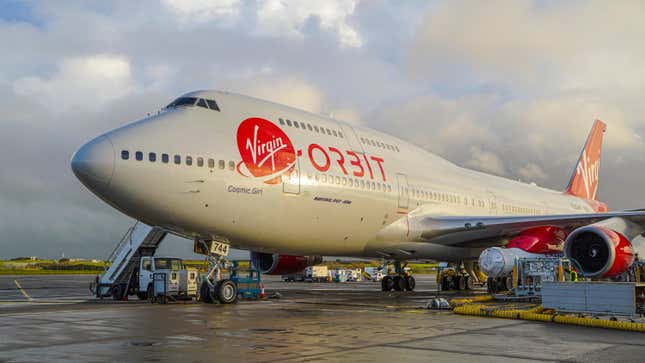 Last month, Virgin Orbit ran into trouble when its LauncherOne rocket crashed, destroying seven payloads on board in an attempt to deploy satellites in low Earth orbit. Now, the company suspects that the cause of the anomaly could have been a pesky filter that only cost around $100.

Speaking at the SmallSat Symposium in Mountain View, California this week, Virgin Orbit CEO Dan Hart shed some light on the possible cause of the crash, which occurred on January 9. Had the launch been successful, the Start Me Up mission would've marked the first orbital launch from British soil. The prime suspect is likely a filter that was supposed to be in the rocket's second stage engine, and Hart claimed that the company would be assessing other filter options for future missions.
"Everything points to, right now, a filter that was clearly there when we assembled the rocket but was not there as the second stage engine started, meaning it was dislodged and caused mischief downstream," Hart explained, as quoted in SpaceNews. He added: "This is like a $100 part that took us out."
The crash involved the company's LauncherOne booster rocket, which gets tucked beneath the left wing of a modified Boeing 747 and carried to a high altitude. The aircraft—dubbed Cosmic Girl—released the rocket over the Atlantic Ocean after lifting off from Spaceport Cornwall in southwest England.
LauncherOne managed to reach space, and fairing separation was achieved at the designated time, but the upper stage experienced an anomaly at an altitude of around 112 miles (180 km), causing the rocket and its payload to fall back to Earth, the company said. The rocket was moving at 11,000 miles per hour (17,700 kilometers per hour) when it failed, according to Virgin Orbit.
Despite the setback, Virgin Orbit is expecting to launch Cosmic Girl with a new LauncherOne rocket in the coming weeks pending the results of the company's investigation into the incident. However steadfast the Richard Branson-owned Virgin Orbit is, the company has been struggling financially over the past few months, as evidenced by the $55 million pumped into it by Virgin Investments Limited over the past few months. The LaunchOne failure in January is certainly no help.
More: Rolls-Royce Nuclear Engine Could Power Quick Trips to the Moon and Mars