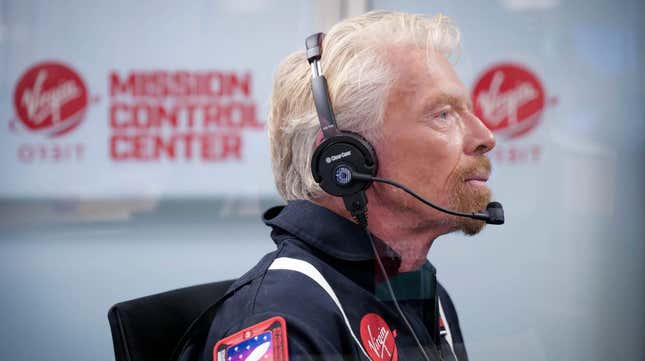 Houston, Virgin Orbit has a problem. The satellite launch company from British entrepreneur Richard Branson has announced that it filed for Chapter 11 bankruptcy in Delaware.

Astronomers Could Soon Get Warnings When SpaceX Satellites Threaten Their View
Virgin Orbit announced the news in a press release this morning, and the company intends to use the filing to "maximize value" of its business while it seeks out a buyer. The company has received $31.6 million in Debtor in Possession (DIP) financing from Branson-owned Virgin Investments Limited that, when approved by the bankruptcy court, will provide Virgin Orbit with enough liquidity to eventually sell the company and its assets. For now, the company will be operating as is, and asked the Bankruptcy Court for permission to access its cash on hand and its DIP financing in order to maintain operations and pay its employees.
"While we have taken great efforts to address our financial position and secure additional financing, we ultimately must do what is best for the business," said CEO Dan Hart in the press release. "At this stage, we believe that the Chapter 11 process represents the best path forward to identify and finalize an efficient and value-maximizing sale."
Virgin Orbit's financial troubles were in part due to a single, pesky, $100 filter that caused a rocket crash. In January, Virgin Orbit conducted the Start Me Up mission to test the company's own Cosmic Girl, a Boeing 747 fitted with the capacity to carry a LauncherOne booster rocket tucked under its wing. After lifting off from Spaceport Cornwall in southwest England, Cosmic Girl released LauncherOne. The rocket then reached space and successfully separated before the anomaly occurred; LauncherOne hit an altitude of 112 miles (180 kilometers) and speeds reaching 11,000 miles per hour (17,700 km per hour), caused it and its payload to fall back to Earth. Virgin Orbit confirmed on Twitter the following month that a faulty filter starved the rocket's Newton 4 engine of fuel, leading to the crash.
While its sibling company Virgin Galactic is facing its own issues, the writing has been on the wall for Virgin Orbit. Virgin Investments Limited pumped $55 million into Virgin Orbit across three cash injections since November 2022 according to a February 1 filing with the SEC this year, painting a portrait of a company strapped for cash.
Last month, Virgin Orbit suspended its operations and furloughed most staff while trying to secure an investor to bail it out of its financial woes. After nearly closing on a $200 million rescue deal from Matthew Brown—an investment offer that may have been disingenuous—Virgin Orbit extended the staff furlough and continued pausing its operations.
For more spaceflight in your life, follow us on Twitter and bookmark Gizmodo's dedicated Spaceflight page.