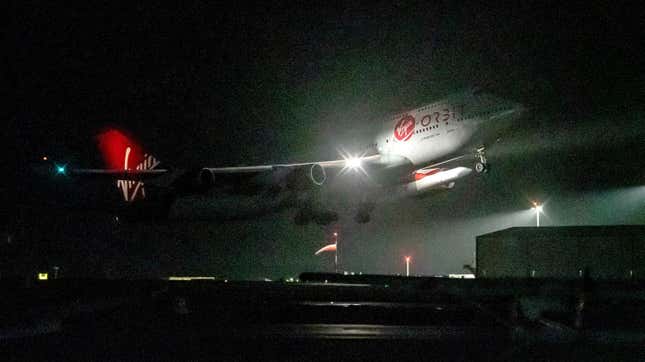 Virgin Orbit is pausing all impending operations after announcing it is furloughing the majority of its staff in a companywide effort to cut costs and secure investor funding. The company informed its staff of the furloughs at a meeting on Wednesday, telling employees they would receive further information next week, according to an unnamed source, CNBC first reported.
Astronomers Could Soon Get Warnings When SpaceX Satellites Threaten Their View
The news comes after the satellite company's failed launch in the U.K. in January, which led to "an anomaly, leading to a premature shutdown of the rocket and failure to reach orbit," the company said in a press release last month. Virgin Orbit's investigation found the launch was disrupted after a fuel filter became dislodged, which overheated the engine and caused it to malfunction. "In space launch, a failure is painful for all involved," Virgin Orbit's CEO Dan Hart said in the press release.
Virgin Orbit did not immediately respond to Gizmodo's request for comment.
The company is seeking to deliver commercial, civil, national security, and international satellites into orbit and has operations across the globe. Virgin Orbit's failed launch and subsequent investigation into what caused the malfunction became a cause for concern among investors; the operational pause will help the company to buy more time as it finalizes a new investment plan, Reuters reports.
The company said in a statement to The Guardian: "Virgin Orbit is initiating a company-wide operational pause, effective March 16, 2023, and anticipates providing an update on go-forward operations in the coming weeks."
The mission, titled "Start Me Up," carried seven satellites that were lost as they fell to Earth and landed in the Atlantic Ocean, presenting a major blow to the company whose stock fell by 22% immediately after the failed launch, CNBC reported at the time.
Since January, Virgin Orbit's stocks have continued to fall, reaching a 44% drop since the beginning of the year, as listed on the U.S. Nasdaq exchange, and has continued to send the stocks into a downward spiral as investors pull out.
The launch would have marked Virgin Orbit's first-ever mission to launch satellites into orbit from Europe, since its inception in 2017. Virgin Orbit reportedly plans to issue another launch in California later this year. Speaking of that next launch, Hart said in the press release: "We are modifying our next rocket with a more robust filter and we are looking broadly to assure that all credible contributors to mission failure are rooted out and addressed."
He continued, "With those modifications being incorporated on our factory floor, we will proceed cautiously toward the launch of our next rocket, which is well into the integration and test process."
For more spaceflight in your life, follow us on Twitter and bookmark Gizmodo's dedicated Spaceflight page.