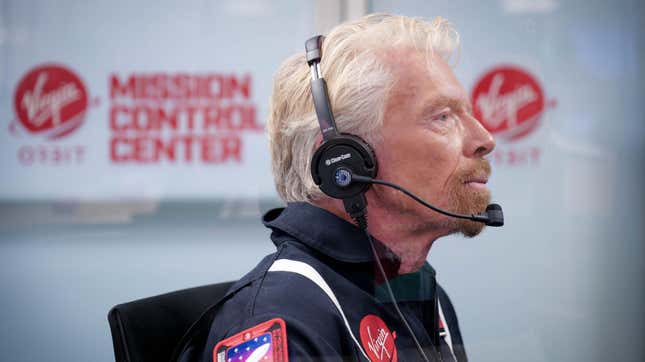 Things may be looking up for Richard Branson's private launch business Virgin Orbit, with reports suggesting the company may have secured new funding and is preparing for an upcoming rocket launch.
Astronomers Could Soon Get Warnings When SpaceX Satellites Threaten Their View
Virgin Orbit might be returning a small team of its employees that were furloughed just last week, CNBC reported on Tuesday, based on a company-wide email. What's more, the company is looking to perform another launch soon in an effort to move forward and redeem its launch failure earlier this year. "Any viable path for our operations will require us to successfully launch," Virgin Orbit CEO Dan Hart wrote in the email sent out to employees, according to CNBC.
The company may also be on the verge of acquiring new funding. On Wednesday, Reuters reported that Virgin Orbit is close to finalizing a deal with venture capital investor Matthew Brown for a $200 million investment in the company. That may be the reason why Virgin Orbit is seemingly optimistic about seeing its LauncherOne rocket fly again.
Last week, Virgin Orbit paused its operations, furloughing most of its staff in an operational pause meant to buy some time as the company works on a new investment plan. The company has been struggling since its Start Me Up mission failed in January, during which nine satellites were destroyed. The failure of Virgin Orbit's LauncherOne rocket caused concern among the company's investors, and its stock fell by 22% immediately after, CNBC reported at the time.
The Start Me Up mission was meant to usher in a new era for Virgin Orbit, as it was the company's first launch from British soil and the first orbital launch attempt from the United Kingdom. Virgin Orbit attaches its LauncherOne rocket to a modified Boeing 747 aircraft, nicknamed Cosmic Girl, that serves as a rocket carrier, releasing the booster over the ocean at an altitude of around 35,000 feet (10,668 meters). From there, the rocket then attempts to deliver its payload to orbit. The Cosmic Girl aircraft helps the company save on fuel, providing a cheaper way to reach orbit.
But since it began operations in January 2021, Virgin Orbit has only managed to pull off five successful launches. And with investigations into the latest rocket failure still ongoing, it's not clear how soon Virgin Orbit will be able to see Cosmic Girl soar over the Atlantic Ocean once again.
For more spaceflight in your life, follow us on Twitter and bookmark Gizmodo's dedicated Spaceflight page.