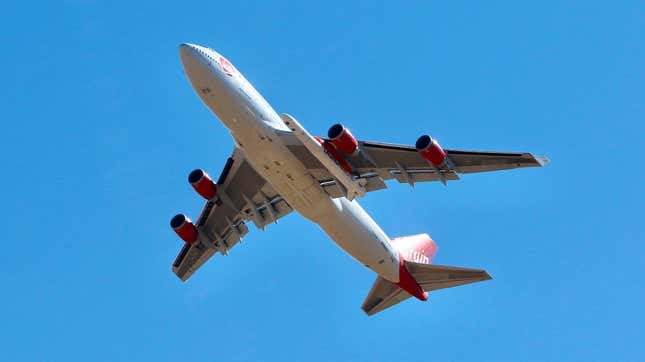 A modified Boeing aircraft, with a rocket tucked under its wing, will take off from British soil as early as next week, marking the United Kingdom's first ever orbital launch.

Astronomers Could Soon Get Warnings When SpaceX Satellites Threaten Their View
Virgin Orbit is getting ready to send off its Cosmic Girl mothership from Spaceport Cornwall in England after clearing some final regulatory hurdles, paving the way for the historic launch. Cosmic girl is all set for takeoff on Monday, January 9 at 5:16 p.m. ET, with back up windows available on January 13, 15, 19 and 20.
"What an incredible honor it is for us to be part of something as monumental as bringing Britain into the business of launch," Dan Hart, CEO at Virgin Orbit, said in a statement. The U.K. Civil Aviation Authority issued launch and range control licenses to Virgin Orbit in late December, allowing the company to set a date for the historic mission.
Cosmic Girl is Virgin Orbit's trusty Boeing 747 aircraft that's been modified to serve as a rocket carrier. The Boeing aircraft, with all of its seats ripped out, will carry the LauncherOne booster rocket beneath its left wing. At around 35,000 feet (10,668 meters), the aircraft will release the booster over the Atlantic Ocean. From this high altitude, the rocket will then attempt to deliver its payload to orbit, in a process that requires less fuel than conventional rocket launches from the ground.
The mission, titled Start Me Up, was named in honor of the hit song from British rockers The Rolling Stones. It will carry satellites for seven commercial and government customers, including two cubesats for the U.K.'s Ministry of Defense; the AMAN Earth observing satellite from Oman (its first orbital mission); and Stork-6, the sixth satellite to be included in Poland's Earth-observing cubesat constellation.
The launch is being hailed as a major breakthrough for the British space industry. Rockets have taken off from U.K. soil before, but never to deliver payloads to Earth orbit. With this mission, the U.K. is finally entering into the lucrative business of delivering satellites to their orbital posts, as well as providing local access to space for British companies. A new era for the U.K. appears to be at hand, as the commercial uses of space continue to expand globally.
More: Europe Has Few Options to Reach Space After Vega-C Rocket Crash