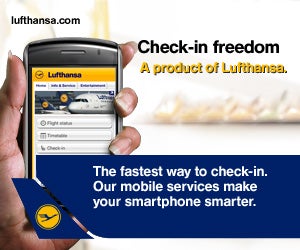 Let Lufthansa's revamped Mobile Services Microsite help you explore the freedom and functionality of the Lufthansa Mobile Services smartphone portal. Use your BlackBerry, iPhone or Android to plan your trip, book a flight, check in and find your way around the terminal with ease!
You can also check flight status and timetables, manage your miles, change your seat and more. Finally, a mobile site that gives you the freedom to take care of your travel needs from the palm of your hand.
They've made everyone's smartphone smarter. So check out the state-of-the-art Lufthansa Mobile Services Microsite and become a more mobile traveler!