Welcome back to Toy Aisle, io9's regular round up of all the wonderful toys we've been pining after lately. This week: Sphero's latest little robot toy, Thor: Ragnarok's new look for Thor gets an awesome figure, and we have thoughts about the butt of DC Comics' Dick Grayson. Let's get to it!

---
Manga Realization Koutestu Samurai War Machine
For the past few years, Bandai has released "movie realization" Star Wars figures that turn Darth Vader, Boba Fett, and Stormtroopers into Feudal Japanese warriors, swapping high tech for ornate samurai armor, and laser swords for laser katanas. Now, the company is expanding the line to include Marvel characters, and joining Samurai Iron Man is the ludicrously well-equipped Samurai War Machine. Look at the size of those shoulder cannons! If the guns on his wrists and shoulders weren't enough for you, War Machine also comes with a katana for good measure—and he'll set you back around $85 when he releases in Japan next March. [Toyark]
---
G/O Media may get a commission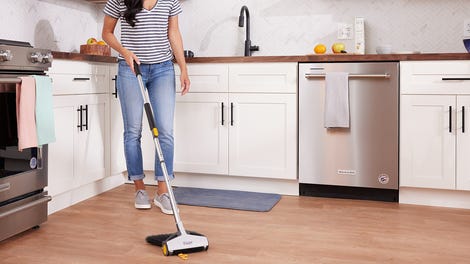 BOGO 50% Off
Flippr - BOGO 50% Off
Sphero Mini
After creating some of the best Star Wars toys we've ever seen, Sphero is returning to its roots with a new version of its rolling, color-changing RC ball. It's been reduced to the size of a ping-pong ball so it's easier to play with on tables, and toss in your pocket. Like the original Sphero, Sphero Mini is controlled using a simple smartphone app that even lets you use your face to steer it around. Smiling sends it rolling forward, frowning makes it roll backwards, and tilting your head steers it left and right. The most exciting upgrade, however, is the Sphero Mini's $50 price tag, which makes it even more accessible to schools that want to use it to teach coding. [Sphero]
---
Kotobukiya Ikemen Nightwing
The discerning io9 reader is well aware at this point that we're fans of Nightwing, especially when it comes to the comics' loving, knowing appreciation of Dick Grayson's buns. Nightwing represents the one of the few, rare examples in mainstream superhero comics of an eroticized male form in a sea of female ones—so we're especially excited that Kotobukiya is kicking off a male version of its "bishoujo" line of pop culture cheesecake statues with Nightwing and his iconic ass.

Based on artwork by the Japanese artist Ricken (which, admittedly, gave Dick a better butt than the final statue does), the 1/7 scale statue includes some bonus pieces to put Dick in some slightly different poses—mainly in the form of some alternate faces and hands to show him either with or without his mask on. The statue will finally be available for $80 in April 2018. [Toyark]
---
8Bitdo SN30 Wireless Controller and Adapter for the SNES Classic Edition
Not every part of your childhood is worth reliving, like wired controllers. So if you've got an SNES Classic Edition arriving today, you might want to consider dropping an extra $25 and upgrading to 8Bitdo's new SN30 wireless controller. Like the wire-free controller 8Bitdo created for the NES Classic Edition, the SN30 includes a dongle that works with other Bluetooth controllers as well, even those included on modern consoles. But the SN30's best feature might be its ability to access the SNES mini's main menu using a clever button combination, instead of having to reach for the console's reset button every time. [8Bitdo]
---
Hot Toys Gladiator Thor
Hot Toys already kicked off its line of immaculately detailed 1/6 scale figures for Thor: Ragnarok with a figure based on Thor's earlier appearance in the movie. Now, we're getting the version we've become more familiar with from the trailers—the short-haired, Mjolnir-less gladiator recruited to fight in the alien arenas of Sakaar. Aside from the new headsculpt featuring the well-trimmed likeness of Chris Hemsworth, Gladiator Thor comes with two short swords, a shield and mace, and, of course, that awesomely winged helmet. All he needs is a Hulk to fight with, which Hot Toys is also doing... so prepare your wallets for some serious pain. Gladiator Thor is set to release some time early next year. [Hot Toys]

---
Osmo MindRacers
Osmo had been doing augmented reality on the iPad long before it became a marketing buzzword for iOS 11. Using a simple mirror that redirects the gaze of the iPad's front-facing camera, the Osmo app can recognize real-world objects like shapes, letters, and now, Hot Wheels cars. Developed with Mattel, the new $79 Osmo MindRacers (or $59 as an upgrade to the original Osmo kit) includes six Hot Wheels cars that are automatically loaded into an accompanying racing app when launched on an included base. Instead of steering, players compete by throwing down physical tokens that trigger performance boosts or obstacles when detected. [Osmo]