Taking selfies with art is an entire photographic subgenre unto itself. So, when an exhibition is touted as a "series of wondrous, over-the-top sets for the perfect selfie," why wouldn't you pull out your camera and a snap a pic for the 'gram? This is why.

The video below was taken at a group show at The 14th Factory in Los Angeles. Around the ten second mark, you can see a woman in the upper right stoop down for her ill-fated selfie and everything goes wrong.
As Hyperallergic points out, the Los Angeles Times ran a preview of the show back in May that was headlined "Oh, the selfies you'll make at L.A.'s 14th Factory, where the art is so social. Our Instagram tour." That headline turned out to be all too prophetic when the disastrous destruction of all that art occurred two weeks ago. Thankfully, footage of the incident was uploaded to YouTube today and started making the rounds.
If you're curious what the actual artwork looks like, this it:
G/O Media may get a commission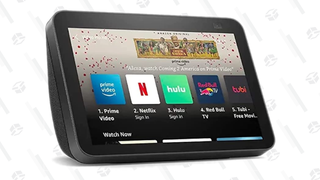 Gloria Yu, one of the artists featured in the exhibition, tells Hyperallergic "Three sculptures were permanently damaged and others to varying degrees," and "the approximate cost of damage is $200,000." Keep in mind that art is generally worth what people will pay for it, but I guess that's true with many things. The sticker price on this art was $200,000 and that's final.