Four new TV spots for the Batman movie The Dark Knight give a much clearer glimpse of the early confrontation between Batman and Heath Ledger's Joker than we've seen before. And a new Doctor Who clip reveals who ends up a prisoner of the Daleks this Saturday. We also scored some new pics of Shia LaBeouf's college days from Transformers 2 — and there are new rumors about what interrupts Shia's college career. New pics also shed some light on Wall-E and Jerry Bruckheimer's remake of British evil-science show Eleventh Hour. Plus Jon Favreau makes a prediction about the Avengers movie's lineup. And there are new hints for The Middleman, Chuck, and Knight Rider. Spoilers ahead.
Transformers: Revenge Of The Fallen:
Here are some some new set pics from the Transformers sequel, showing Shia LaBeouf as a diligent college boy, fumbling with his books while talking on the phone. And Megan Fox was also around filming scenes at Princeton. [Flynet and JustJared]

G/O Media may get a commission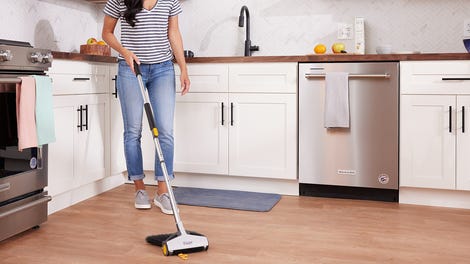 BOGO 50% Off
Flippr - BOGO 50% Off
There's also a new motorcycle, an Aprilia RS 50, that was spotted near the Princeton shooting location. It has no license plate and was kept in a special location. Could it be important to the film's storyline? Besides Shia and Megan, Ramon and Isabel were also on location. There was a Saturn Astra, which Shia seemed to be driving, including one scene where it gets driven into a pole. Also, there's tons of video of the Saturn Astra tearing down the street, along with the camera Go-Kart. Megan filmed a scene where she gets out of a taxi.
And then there are spoilers/rumors about what happens to tear Shia away from his happy college life in the weird fusion of Princeton and UPenn. Sam touches some kind of Transformers-related object and starts freaking out in class and drawing weird symbols the same way his grandfather did. He gets hauled off to prison or an asylum, and needs to get busted out. There are also references to the return of Megatron. [Transformers Live via Seibertron]
Wall-E:
Here are some new Wall-E images, including one nice spaceship pic and a nice view of the glitzy human habitat. [IGN]

The Avengers:
Marvel is talking about having 2011's Avengers movie star Captain America, Iron Man, Hulk, Thor and Ant-Man... or basically, all the heroes who are starring in their own movies, says Iron Man director Jon Favreau. [USA Today]
The Dark Knight:
IGN interviewed Christian Bale right after he filmed a scene where he and Gary Oldman (Jim Gordon) compare notes on the Joker's daring bank heist. Batman throws some money to Gordon, who catches it. Bale says Bruce is "a little older and he's coming to realize that maybe he's not quite as in control as he believed himself to be." And Batman has to question whether he's part of the problem, or part of the solution. And we'll still see more of Bruce's billionaire playboy facade. Along with Bruce's splashy new digs, there's a new Batcave. [IGN]
Four new TV spots for July's Batman movie give a bit more footage of the Jokery being zany. Is it just me, or is Heath Ledger's Joker actually more menacing the less you hear him talk? Although, it actually looks as though he drops Maggie Gyllenhaal off a building in a couple of those trailers — could it be true that she actually dies? [Reel Movie News and Guess Which Movie]




Doctor Who:
In this Saturday's Doctor Who episode, Earth and 26 other planets are snatched away somewhere. The Doctor and Donna arrive in the TARDIS, hovering in bewilderment in the empty space where Earth used to be. Meanwhile, on Earth, everything is mass panic and hysteria, and some of the Doctor's past companions start to band together. Rose, meanwhile, pays a visit to Donna's family, but she does get reunited with the Doctor at some point.
Also, a woman we know very well gets exterminated this week. (My guess: Jackie Tyler.) And we learn where the bees have gone. And finally, there's no K-9 in this episode, which means that spoiler about K-9 going to rescue the Doctor's daughter was definitely fake. [Digital Spy]
And here's a short scene from the episode, courtesy of kids' show Blue Peter. Sarah Jane, Jackie and Mickey are all prisoners aboard the Daleks' Crucible! OMG! [Cathode Ray Tube]

The Middleman:
More details about the July 14 Middleman episode about the zombies who crave trout instead of human flesh. Turns out the trout-craving zombie epidemic is due to an energy drink that has weird side effects. M.M. and W.W. scramble to stop the distribution of the problem drink before it's too late. Meanwhile, Lacey and Noser feel abandoned because Wendy isn't helping them with their annual art crawl exhibition. [Spoiler TV]
Eleventh Hour:
Here are a couple of promo pics of Rufus Sewell and Marley Shelton as the scientist and bodyguard in the Jerry Bruckheimer remake of anti-mad-science thriller Eleventh Hour. [Spoiler TV again]

Chuck:
In Chuck season two, there'll be more of a season-long arc, and less of the episodic hijinks. At the start of the season, something huge happens to shake up the characters, and it sends them on a big mission. By the end of the season, we won't see the characters the same way again. [TV Guide via Spoiler TV]
Knight Rider:
Some new casting calls have come out. Episode one includes a "Euro trash guy" who goes to meet with Kelli, the ex-special forces soldier, and does an exchange with her. (Maybe this has something to do with the guy who has the magic cipher-cracking DNA?) Also, episode two, includes a good-looking "counterculture physicist" in his thirties named Ryan Arrow. I met a counterculture physicist, and it's never a good idea to eat any dark-matter cookies they may offer you. [Spoiler TV]
Thanks to Lauren Davis for research help.