You might think you were born in Duluth, or Detroit, or some sleepy suburb on Long Island—but let me tell you, friend, you're wrong. In a sense, we were all spawned on a tiny island full of trash, floating miserably far, far out there. Only now are we beginning to understand the horrifying gravity of what our garbage species hath wrought.

The rubbish landmass of which I speak isn't just a metaphor—it's also a real place, called Henderson Island. Henderson Island is tucked away so deep in the South Pacific, it takes 13 days to get there from New Zealand by boat, according to Popular Science. Although it is very small and very hidden, a new paper, published today in the Proceedings of the National Academy of Science, suggests it has the highest density of garbage anywhere on Earth. Researchers estimate that it has about 37,661,395 pieces of manmade trash on it.
"The density of debris was the highest recorded anywhere in the world, suggesting that remote islands close to oceanic plastic accumulation zones act as important sinks for some of the waste accumulated in these areas," the research team behind the unsettling discovery wrote. "As global plastic production continues to increase exponentially, it will further impact the exceptional natural beauty and biodiversity for which remote islands have been recognized."
In their four-month sojourn on Henderson Island, the researchers had almost no interaction with people—after all, there are only about 58 of them on the island. That said, the team became very well acquainted with outsiders' trash.
G/O Media may get a commission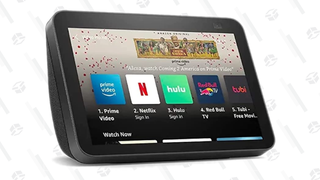 "Based on our sampling at five sites we estimated that more than 17 tonnes of plastic debris has been deposited on the island, with more than 3570 new pieces of litter washing up each day on one beach alone," Jennifer Lavers, the paper's lead author, said in a statement. Lavers and her team think much of the trash comes from fishing activities in the region.
What's sad is that the animals on Henderson Island—who produce no trash—are paying the ultimate price for humanity's tomfoolery, as usual. Across the world, humans are dumping roughly 8 million tons of plastic into the ocean annually, according to a World Economic Forum report published last year.
"Research has shown that more than 200 species are known to be at risk from eating plastic, and 55 per cent of the world's seabirds, including two species found on Henderson Island, are at risk from marine debris," Lavers said.
While each one of us isn't physically on trash island right now, we are all residents of this garbage-filled planet hurtling through space. It was a nice one until we came along and made it all shit-like.