We've got a long wait for Guardians of the Galaxy. There's no Stainless Steel Rat movie. But luckily, to fill the gap, there's Shinichiro Watanabe's Space Dandy, the new anime series debuting in early 2014.
I love everything about this teaser, which first screened at Otakon. The visuals. The space battles. The giant weird aliens. The "space Vegas" stuff. The theme tune "Viva Namida" by Yasuyuki Okamura, which reminds me of Seamo's "Lupin" theme tune in a really good way.
Space Dandy is about a guy just trying to make his way in the galaxy, traveling around finding aliens and just trying to make a living. In addition to being created by Watanabe (Cowboy Bebop), the show has an amazing roster of talent. It's co-directed by Shingo Natsume (Fullmetal Alchemist: The Sacred Star of Milos), and written by Keiko Nobumoto (Wolf's Rain, Cowboy Bebop, Macross Plus), Dai Sato (Cowboy Bebop, Ghost in the Shell: Stand Alone Complex, Eureka 7, Ergo Proxy) and Kimiko Ueno (Shin Chan). And the aliens will be designed by a slew of different designers.
Not enough space anime for you on a Sunday morning? Check out the teaser for the Bodacious Space Pirates movie, coming in February from director Tatsuo Sato:
[via ToonZone and Anime News Network]
G/O Media may get a commission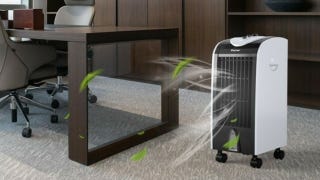 Save $10
Evaporative Portable Air Conditioner Cooler with Filter Knob