Have you ever watched the Star Wars movies and thought about how you'd like to morph the various characters into sex toys for your masturbatory pleasures? If so, boy, should you be excited, because a company in Brisbane, Australia is making a whole slew of vibrators, dildos, bondage gear, and more, all "inspired" by the films, and, uh... well, just see for yourself.
The company, Geeky Sex Toys, has a history of making... geeky sex toys. Last year, as Mashable noted, it produced a series of Pokémon-inspired sex aids. There are also toys based on Rick and Morty (Dick and Horny), Power Rangers (The Mighty Moaning Anal Rangers), and Guardians of the Galaxy (Orgasms of the Galaxy). But the new "Star Toys" line is on another level and inspires some... questions.
Like, some of the toys are pretty tame—the lightsaber vibrators especially, but also the C3P0 anal plug seen up top. And this Dark Side bondage kit seems pretty vanilla for, you know, bondage kits:
G/O Media may get a commission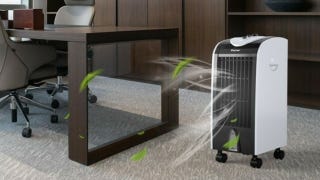 Save $10
Evaporative Portable Air Conditioner Cooler with Filter Knob
Sure the Death Star ball gag is right up Moff Tarkin's alley, but that I guarantee you what Kylo Ren and Darth Vader wear day-to-day is a helluva lot kinkier than that mask and collar.
But then things take a turn with the Hand Solo male masturbator and the 5-inch Dildoda.
Why would you want to stick your penis in carbonite? Carbonite is cold. Why would you want to be thinking about sub-zero temperatures when engaging your junk with a particularly nerdy fleshlight? The Yoda dildo, on the other hand, despite being five inches long, just seems... optimistic.
But my biggest question is reserved for the Hitachi Wand-like R2-V2, Darth Vibrator, and Vibe Trooper:
These are just vibrators that happen to look somewhat like very popular characters from Star Wars. Clearly these are not meant to allow you to relive your favorite fantasy from Archive of Our Own. Mainly because I don't think many people look at Vader's shiny dome and think "AW YISS."
But my biggest question is: How on Earth is this legal? Is Disney handing out licenses to sex toy makers? (Note: They are not.) Do the good people of Australia's Geeky Sex Toys just not give a damn? Or is this supposed to be the toy equivalent of Axel Braun's porn parodies, like Justice League XXX? Braun's films are purposely characterized as parodies to avoid copyright infringement—can toys be considered parodies? With a name like "Dildoda," the Yoda wang is clearly not trying to be taken seriously, either.
We've reached out to Geeky Sex Toys for comment.